LINDA CALDWELL
of the Florida Catholic staff
ORLANDO | Looking back on her Catholic education, most notably the two years she spent at Trinity Catholic High School in Ocala, Haley Kairab said one of the most valuable lessons she learned was to "always turn to God and never lose sight of he who is most important."
Picture: Bishop Noonan speaks to the Santa Fe Catholic High School graduates.
"I have learned that God is the guiding light in my life that I will follow the rest of my life," she said. "I have realized that I need to be a bearer of God's good news to those around me."
Kairab was among 732 seniors from the Diocese of Orlando's five Catholic high schools who — amid laughter, tears, warm embraces and continuous camera flashes — prayerfully closed one chapter in their lives and looked forward to the next. As they celebrated their high school baccalaureate Masses with Bishop John Noonan during the last weeks of May, several students reflected on what their Catholic education has meant to them in speeches given during Mass.*
"Father Lopez (in Daytona Beach) has provided the perfect high school environment for me to excel in all areas of my life, while still keeping an eye on my faith, and God at the center of it all," said Christian Borer. "I have learned about my faith in class and at Mass. I have been able to practice what I believe in an accepting community."
For Kayla Liquori of Bishop Moore Catholic High School in Orlando, her Catholic education has taught her to improve upon her inward values, placing importance on her character.
"I have learned to empathize with others, a skill that can be credited to learning about Jesus and his teachings," she said. "I found a joy for helping others that I wouldn't have discovered without the inspiration of my teachers, who have dedicated their lives to helping students like me."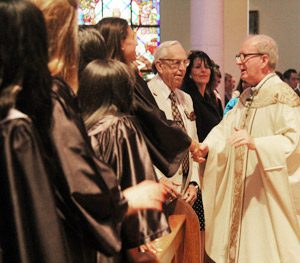 In his homily, Bishop Noonan encouraged the graduates to follow the teachings of St. Ignatius and at the end of each day to prayerfully reflect on the events of the day in order to detect God's presence and discern his direction for them.
"Before you begin to pray, ask God to be with you. No matter where you are, ask God to be with you," Bishop Noonan said. "Secondly, go over your day and see what was good. Then, reflect on your day and see where you felt the presence of God in your life. Choose one thing and pray on it. What good things happened in your lives? Be thankful for them.
Picture: Bishop Noonan greets the Bishop Moore Catholic High School graduates.
"Also, ask God for the awareness of some of the things you haven't done so well," he continued. "Finally, with those things, ask God for the courage and grace to do them better the next time."
He urged them to live virtuous lives.
"Our world needs to have people who have virtues," he said. "We come today to ask the Lord to bless you, to send you forth into our world that you too not only conquer the world, but you can give hope to the world because the world needs hope and you are our future."
Brooke Emison of Melbourne Central Catholic High School in Melbourne encourages her fellow graduates to continually live in the present and to remember God in the little things.
"My hope for us today is that we can look back on our time at Melbourne Central Catholic and remember all of the little moments–those times when God showed himself to us: in every smile, in every word of encouragement, in every embrace, and in every one of us: students, teachers, priests and parents," she says. "My prayer is that we can use these little moments to remind us of God's persistent presence in our lives."
And as he looked to the future, Thomas Hammen of Santa Fe Catholic High School in Lakeland thanked his teachers.
"I thank you all for your advice and patience," he said. "Whether you realize it or not, I know that Christ is working through you to mold us into what we are capable of. In a world such as ours, I believe we need Catholic schools more than ever. The future calls for individuals who are confident in their morality and unshaken in their beliefs."