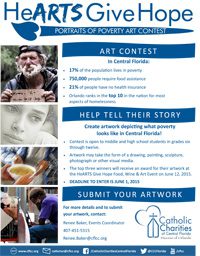 Middle and high school students in grades six through twelve are invited to compete in the 2015 HeARTS Give Hope: Portraits of Poverty Art Contest for Catholic Charities of Central Florida. The theme "Portraits of Poverty" is an opportunity for students to learn more about the realities of those struggling with homelessness, hunger and access to healthcare in Central Florida.
Participants are asked to submit their artwork depicting what poverty looks like in Central Florida by June 1, 2015. The artwork may take the form of a drawing, painting, sculpture, photograph or other visual media. The top three winners will receive an award for their artwork at the HeARTS Give Hope Food, Wine & Art Event on June 12, 2015. For more details and to submit your artwork, contact: Renee at Renee.Baker@cflcc.org or 407-451-5315.
Click here to download the flyer.