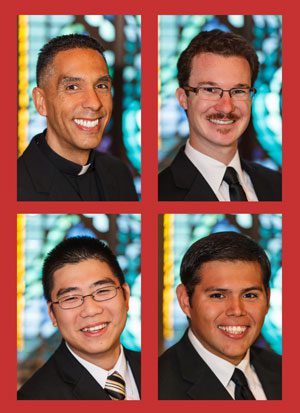 This summer seminarians in the Diocese of Orlando had an opportunity to grow in God's love and grace. Four seminarians share their experiences of how God touched their lives in new and surprising ways. (pictured Left: left to right top: Deacon Ivan Olmo & Deacon Mark Labelle; left to right bottom: Deacon Martin Nguyen & Edwin Cardona).
Deacon Ivan Olmo is entering fourth year theology at Blessed John XXIII National Seminary in Boston.
My time at the Institute of Priestly Formation was a sacred time for me. I could share many ways that the Lord has blessed me this summer, but I will share just one, the one that has truly touched and moved my heart.
One day I was reflecting on the beautiful gift of my (diaconate) ordination when the gray clouds started seeping through in my prayer. Suddenly there was a voice of deception, a voice of discouragement and a voice of lies putting all kinds of doubt in my mind, preventing me from receiving God's love, preventing me from embracing being a beloved son. I felt horrible about myself when God stopped me and said to me, 'Be still my beloved son and let me fill you with all my love.'
The next day, while meditating, I saw a beautiful image of a little boy sitting in church, loving the Lord and the Lord was loving him in return. I thought that this is a beloved son of God. When I looked closer at the image, I saw it was me when I was five years old. I was sitting in the pews allowing the Lord to love me. That was the day I fell in love with God and the church.
I thank IPF for helping me see who I truly am — a beloved child of God.
Mark LaBelle is entering his second year of the Pre-Theology program at St. John Vianney College Seminary in Miami.
This summer, I spent my first pastoral assignment as a seminarian for the Diocese of Orlando at Bishop Grady Villas in St. Cloud, FL. Located about a block and a half away from St. Thomas Aquinas Catholic Church, Bishop Grady Villas is an assisted living facility for adults with developmental disabilities.
As a seminarian, my main responsibility was to be with the residents and to provide them with spiritual guidance and support. We spent many evenings sharing our prayer intentions and praying the rosary in a small group setting. We also visited St. Thomas Aquinas Catholic Church, the Basilica of the National Shrine of Mary Queen of the Universe, and St. James Cathedral to pray and to learn more about the furnishings of a Catholic church (i.e. the altar, ambo, etc).
But the highlight of the summer was the day retreat we held for about 30 of the residents, which featured adoration of the Blessed Sacrament, confession, and mass. On the retreat we challenged the residents to become saints with the theme "Pray, Love, Forgive". The time I spent at Bishop Grady Villas was very rewarding, at times a bit challenging, but overall a blessing.
Martin Nguyen is entering second year theology at St. Vincent de Paul Regional Seminary in Boynton Beach.
Having just returned from Washington D.C. after an intensive course in American Sign Language, I was in Georgia visiting my mother when I received the email requesting my assistance at the Quo Vadis Retreat (vocations retreat for teenage boys). To be completely honest, I was rather reluctant. However, having promised never to say "no" when the Church asked me to do something, I agreed. This retreat that I was privileged to be a part of turned out to be quite an inspiring and humbling experience.
My responsibility during the retreat was mostly setting up for the Liturgies and working the details behind the scenes. This allowed me the chance to stand in the back, observing the attendants. Words cannot sufficiently describe what I felt witnessing the beauty of their faith and the fire of love they carried for the Lord and His Church.
They might not be aware of this, but they inspired me greatly and once more reminded me of the reason why I had chosen to heed the Lord's call in the first place. It is as St. John Bosco beautifully put, "For you I study; for you I work; for you I live; for you I am willing to give my life." Yes, for them, I study, work, live and even willing to give my life. For them, it's worth it all.
Edwin Cardona is entering first year theology at St. Vincent de Paul Regional Seminary in Boynton Beach.
Summers play a significant role in my formation for the priesthood, and this summer was no exception. I was placed at Ascension Catholic Church in Melbourne with my brother seminarian Ricardo Salgado. Father Eamon Tobin, the pastor of the parish, received us and proceeded to paint us a picture of ways that we can get involved this summer. This included visits to the hospital, praying with the homebound, sharing meals with families, leading and participating in bible studies, doing door to door evangelization, adoring the Lord in the Blessed Sacrament with thousands of teens at Steubenville Atlanta, opening doors of hope for people at Ascension Social Concerns, and so many other instances where the Lord's love was manifested.
The people of Ascension Catholic Church played a huge role in my priestly formation, and their role found its foundation in their love for the Lord and its expression in their love for the poor. Even though this summer is slowly setting behind me, my experience at Ascension will remain with me as the beginning of my journey at St. Vincent de Paul Regional Seminary begins.