Reunions, prayers and laughter summed up Diocesan Educator "Kick-Off" Day on August 10 as 1,053 Catholic teachers geared up for the first day of school. The event provided teachers the opportunity to listen to guest speakers, participate in the celebration of Mass with Bishop John Noonan and transition into the new 2015-16 school year.
"It's pretty fun. This Kick-Off starts the year on a great note. It gets everybody excited and pumped up to begin refreshed," said Kerrie Slafkovsky, Pre-K teacher at St. Peter Catholic School, Deland "When we all go back to our schools, we'll project the same attitude for our students."
Slafkovsky said she was able to relate to several talking points from guest speaker Mike Patin. He holds a Master's Degree in Pastoral Studies from Loyola University of New Orleans and now travels to different dioceses throughout the country giving motivational speeches. Patin spent his two-part presentation encouraging teachers to challenge and nourish themselves spiritually and also to create harmony in their schools respecting the dignity of each person.
"Teachers, read the hunger and struggles of your students, parents and fellow co-workers," Patin said. "Read their gifts, everyone has a story to tell. And remember to ask God for help. If you want to resolve conflict, begin with prayer."
Bishop Noonan's homily provided a specific message for all educators. He focused on the role of serving those we encounter. "If you give freely, you receive freely. In that loving way of service you will feel inspired and that's what you all as teachers do. You give more to your students than what is asked of you. It's a blessing."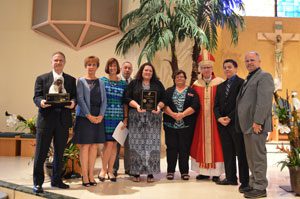 Bishop Noonan also transitioned into the discussion of entitlement. He said we are not born to be honored. We are born to come into communion with one another. Everyone has a special role to play: To be loved and appreciated by God and then return that same love to those you serve.
A couple of awards were handed out throughout the event. A new award introduced this year is the Jenni Heneghan Catholic School Leadership Award. Principal Heneghan of All Souls Catholic School in Sanford passed away on March 3, 2015. However, her hard work and dedication to students and staff will remain with the Diocese of Orlando in a humbling way through this award.
The first recipient is Principal Katie Walsh of St. Margaret Mary Catholic School. The strength in her faith, the guidance she offers and the love she shows for all students earned her this achievement.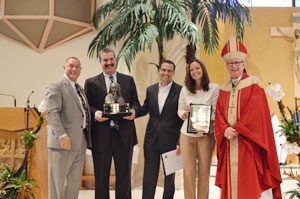 Two schools were also presented the Blessed Mother Teresa Award, which is presented annually to schools in the diocese that demonstrate the compassion and corporal works of mercy exemplified by Blessed Teresa of Kolkata. Bishop Moore Catholic High School and All Souls Catholic Schools were this year's recipients. All Souls students were recognized for their efforts to support their principal and her family members during a difficult time last school year after Principal Heneghan fell ill. "Helping Hands for the Heneghans" consisted of students makings cards, saying prayers, providing meals and fundraising for their needs.
Bishop Moore students were recognized for planning a retreat for Morning Star Catholic School students. The retreat was titled, "Faith, Family and Friends" and emphasized loving God and each other and growing towards full participation in the community.
Henry Fortier, Superintendent of Catholic Schools closed the conference with a pondering reflection for all teachers. He said spiritually feeding ourselves with Scripture readings and by participating in the celebration of Mass, we will better ourselves and the students we teach.
"How are you feeding your soul to then teach and spiritually nurture each student? You are all the spiritual influence of forming each child's life. You have these students with you every day that will go home and evangelize their own families based on what you teach them."