More than 100 parishioners from St. Ignatius Kim Mission cheered with joy as Bishop Emeritus Bernard Harrington of Winona, Minn., and Father Andrew Lee, pastor, dug their shovels into the dirt, breaking ground on the Mission's new fellowship hall. The special ceremony took place following Sunday Mass on Sunday, Jan. 11.
Prior to breaking ground, Bishop Harrington said a prayer, and joined Father Lee in blessing the land to be used for this construction project that has been 10 years in the making.
"Our old building was very small and hot and old," said Father Lee. "We have been collecting for the new building for 10 years. Finally, we will have a new building. It means a lot to us."
"Today is an important event for the life of this parish, this community, to have your own place where social activities can take place," Bishop Harrington said. "But the real joy is to see all of you from all over the United States and even Canada who have come here today for this dedication.
"I am impressed with your faith and the devotion of this community," he continued, "and it is a joy to be with you today."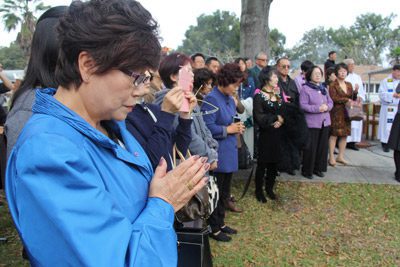 Darryl Podunavac, senior director of Design, Construction and Facilities Maintenance Services for the Diocese of Orlando said the new 2,200 sq. ft. building will replace an existing building, which was in very poor condition. Demolition of the old fellowship hall began on Monday, Jan. 19, with construction slated to begin in February. The new building will be built at the same site.
Podunavac said that the exterior was designed to take into account the residential area immediately adjacent to the hall, while the interior features a large multi-purpose room that will be used for fellowship after Sunday Mass. It will also have a small stage area for presentations, a warming kitchen, office and storage.
"The church has needed the replacement facility for some time now," Podunavac said, "and it is hoped that it will serve the Catholic Korean Community for years to come."
The $350,000 project is expected to be completed in May. CPH, Inc. in Sanford is the architect, and the Ovation Construction, located in Oviedo, is the contractor.
Teresa No, a parishioner of 14 years, could not contain her joy following the ceremony.
"It is unbelievable," she said. "We are so excited and so happy. We waited so long. This is a good day."