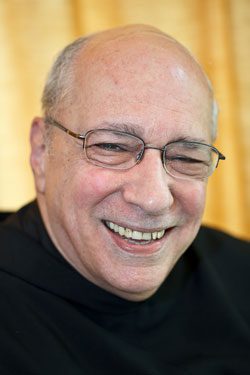 As a child growing up in New York City, Third Order Franciscan Father Giles Schinelli, pastoral administrator at the San Pedro Spiritual Development Center, remembers gazing upon the statue of St. Francis of Assisi that stood in front of a church named in his honor. He said it was then that his fondness of the saint began to blossom. After high school, Father Giles began a 10-year journey of faith and formation, ultimately being ordained into the Franciscan religious order of the priesthood on Feb. 14, 1970.
On Oct. 3, Franciscans around the world will celebrate the Feast Day of their founder. Father Giles said there are numerous branches of secular and religious orders of Franciscans, with followers numbering nearly 1 million worldwide. While there are several branches of the orders, all center on St. Francis' simple yet profound message of universal brotherhood and serving the poor and marginalized.
"In trying to understand the impact of the Incarnation of Christ, son of God, becoming one with us in the flesh, Francis' message stated that if Jesus is our brother, then we are all brothers and sisters together. For him, this universal brotherhood/sisterhood was not only to be celebrated but also to be worked on as we live in peace," said Father Giles.
"Certainly the focus of many Franciscans on the poor and marginalized energizes a number of people," he added. "There are many Franciscans women and men who have been working with lepers, the poor and so on. This is part of the expression of what we call the charism, the giftedness of our community."
In 1979 Bishop Thomas Grady invited the Franciscan Friars to serve as the pastoral staff for San Pedro. The Friars provide a living, praying religious community on the site. Father Giles said the men serve as a witness to God, as they live in a community of brotherhood and serve the people of the Diocese of Orlando through prayer, celebrating Mass, programs and retreats.
"One of the things that make our work more meaningful is the beauty of San Pedro," he said. "It is simple but beautiful. It draws people's spirits and they love it. That is important for us because that is a dimension of our Franciscan vocation that we appreciate – nature."
"Care of creation for us is very important," he added, saying that in "The Canticle of the Creatures," St. Francis praises God through all of the creations.
"It is that kind of spirit we want to communicate to people. We want them to understand that creation is the home God provides for us and is an example of God's love for us. So, our response is not only thank God for this gift but also to care for it."
Editor's Note: "Leaders in Christ" is a monthly series in the Florida Catholic profiling people and ministries as examples of faith and service.