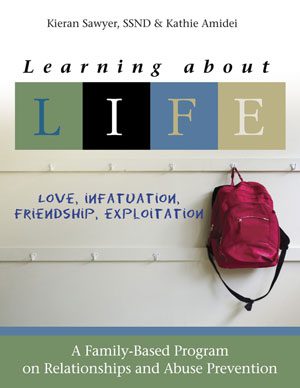 Beginning this school year, parishes in the Diocese of Orlando will be required to offer their religious education students "Learning about LIFE (Love, Infatuation, Friendship and Exploitation) Plus," a faith-based, family-centered curriculum designed to teach children about safe environment awareness as well as chastity, values and virtues education. The program is part of the diocese's newly expanded safe environment programs, aimed to meet the mandates of the Charter for the Protection of Children and Young People, a comprehensive set of procedures established by the USCCB that, in part, set guidelines in creating a safe environment for children and young people.
While faith-based safe environment programs have long been in place for adults and children attending our diocesan schools, Bishop John Noonan said similar programs offered at public schools lacked the rich traditions and values of the Catholic faith. "For years, our religious education students participated in whatever safe environment program was presented to them. These programs lacked our Catholic faith perspectives. The implementation of LIFE Plus offers the unique opportunity to build community and expand parish catechetical teams. I am grateful for our parishes' participation in creating a safe environment for all of God's people," he said.
Heidi Peckham, LMHC, Victim Assistance Coordinator/Safe Environment Coordinator for the Diocese of Orlando, said LIFE Plus, steeped in the theology of the body and carrying the USCCB's message of chaste living, is grounded in good, healthy relationships.
"This program is proactive rather than reactive in that begins by talking about good, healthy relationships," Peckham said. "It answers the question, 'What is a good relationship?' with concrete examples. Fortunately, a vast majority of people today are in such relationships. It is good that we articulate that, identify that, and have words that talk about it. The program then talks about exploitation, and in that single word, we can describe all sorts of bad relationships."
Authored by Sister Kieran Sawyer, SSND, founder of TYME OUT Youth Center in Stone Bank, Wis., and Kathie Amidie, former associate director of Child Ministry and Catechetics at the Archdioces of Milwaukee, the program brings parents and children together one evening each year for age-appropriate instruction.
A trained facilitator(s) within each parish will teach parents the appropriate language to use, and they, in turn, will talk with their children. Lessons build upon each other in two-year increments through the 11th-12th grades.
" This program is taking it another step further and empowering the parents to create a safer, healthier place for their children," Peckham said. "This relationship information is powerful, and it is not covered in this manner in any other programs. In addition, we are taking responsibility off of the public schools and are teaching a program that is promoting good, Catholic values and virtues."
Editor's Note: The LIFE Plus program is anticipated to be launched later this year. Designated parish facilitators can train with Sister Kieran Sawyer, SSND, co-author of LIFE Plus, at the San Pedro Spiritual and Developmental Center in Winter Springs, 8 a.m. – 1 p.m., Tuesday, Oct. 9 (Pre-K through 4th grades) and Wednesday, Oct. 10 (5th through 12th grades). Please RSVP the name(s) of your attendees to Christine Shields, cshields@orlandodiocese.org.