In the past several weeks, Bishop John Noonan has had the special opportunity to present Light of Faith Awards to two individuals, a parish and a school in the Diocese of Orlando. Now in its sixth year, the Light of Faith Awards program is an opportunity to recognize the many ways in which parishes, schools and individuals in the Diocese of Orlando evangelize to spread the Good News of Jesus Christ.
Pictured: Bishop Noonan and the represented staff of St. Ann's Catholic Church, Debary.
In the past, the program put the spotlight on best communication practices in the diocese in several categories, including bulletins, newsletters, special publications, brochures and worship aids, video, social media, Web and Internet, campaigns, and visual media. This year, the awards committee took a new direction, recognizing the efforts of individuals, one school and one parish.
"The Light of Faith Awards provide a glimpse of the beauty of each one of you as you enkindle a deeper faith in the hearts of those whom you encounter," said Bishop Noonan. "And this encounter, through, with, and in Christ, is most important for our ability to connect to each other as a people of faith."
Through the Light of Faith Awards, the Diocese of Orlando identifies and promotes the best examples of Catholic communications and evangelization to bring to fruition the call from Matthew 5:16: "Just so, your light must shine before others, that they may see your good deeds and glorify your heavenly Father."
The award represents an outstanding commitment to, enkindling a deeper faith in the hearts of the people, forming leaders in Christ and harmonizing ministries to the mission of the Church.
The presentation is held in union with the annual World Communications Day observed by the Vatican for 49 years. This year's theme is "Communicating the Family: a Privileged Place of Encounter with the Gift of Love."
Bishop Noonan presented the Light of Faith Award to the following:
Leigh Svajko, principal at Sacred Heart Catholic School was presented the individual Light of Faith Award during the celebration of the school Mass on April 27. She was recognized for her work in promoting Catholic identity with her students and families. She encourages frequent prayer, charitable works and understanding among all she serves.
"I feel very blessed to be a part of a community where service and evangelization are an integral part of the culture" Svajko said. "I am only a small part of this important work and I am honored to receive the Light of Faith Award and share this excitement with the Sacred Heart community."
"This experience has been a beautiful reminder that our primary mission is to share the faith," she continued. "I am very grateful to the diocese for this honor that reminds all of us to remain focused on our call to evangelize."
Father Lopez Catholic High School in Daytona Beach received the Light of Faith Award for schools. The school was recognized for its utilization of many communication methods, such as electronic newsletters, recorded phone messages, social media and an annual report, to evangelize and to keep their community aware of the school's mission.
"Whatever tool they may be using, they make sure one thing is always evident – they are first and foremost a Catholic school," said Carol Brinati, chancellor for administration, during the award presentation on May 6.
As the school has increased its emphasis on Catholic identity, they have also seen an increase in enrollment. The school has experienced enrollment increases for five consecutive years, and has seen back to back record breaking enrollment for the school's history.
"It is a nice recognition for all of the efforts our team dedicates into sending the message out about our mission," said Lee Sayago, principal. "We have a lot of people we have to reach out to and receiving this award verifies that we are sending out that message and it is being received."
St. Ann Parish in Debary received the parish Light of Faith award on May 5 during the Diocesan Stewardship and Communications Day. The parish was recognized for its efforts in helping Catholics enkindle a deeper faith and to be formed as leaders in Christ, through a seven-month adult faith formation initiative using Bishop John Noonan's "The Way, The Truth & The Life" video series. Through video and verbal presentations, and small- and large-group discussions, the program enabled individuals to explore what the Catholic faith teaches and why. Participants had the opportunity to take an in-depth look at contemporary topics, such as the meaning of life, personhood, freedom, marriage, family and science.
"It is an amazing honor," said Sam Hallman, director of faith formation at the parish. "We could not have done this had we not pulled together. It was life changing. We learned so much from each other. It was truly an amazing project."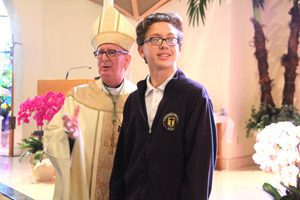 Lastly, Jack Denning (pictured left with Bishop Noonan, and below with his family and the staff of St. Mary Magdalen Catholic School), a seventh grade student at St. Mary Magdalen Catholic School in Altamonte Springs was presented a Light of Faith Award for his work as an Ace Reporter for the Diocese of Orlando's Faith News Online, a special section of the diocesan website that features articles written by and about local Catholic youths. Throughout the year, Jack wrote thoughtful articles about the people, places and events shaping the faith life of students.
Principal Lorianne Rotz said she was very proud of Jack, especially in knowing the effort and love he put in each of his articles.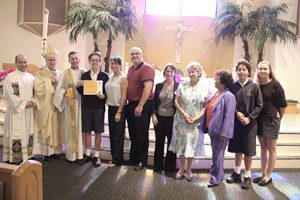 "The way he was able to portray stories for others to read was so meaningful. It was almost in a humble way that he was able to write them," Rotz said. "It was never about him being a good writer. It was always about how do I share the Good News? It is very exciting, knowing that it came from such a humble place, that he is being recognized for it."
As for Jack, he said, "It feels really good because I worked really hard on these reports."