by Morgan Murdick
A group of teens and adults from Holy Spirit Catholic Church in Mims will be attending World Youth Day from July 22 to August 1 of 2016 in Krakow, Poland with Life Teen International. Life Teen is an organization whose goal is to lead teens closer to Christ. They will fly into Warsaw, the capital of Poland, and stay for one night before traveling on to Krakow. The proposed itinerary includes a trip to Auschwitz; a possible visit to Wodawice, home of St. John Paul II; a visit to Jasna Gora monastery; Stations of the Cross with the Holy Father; a vigil Mass, and much more.
In early July, the pilgrims made a quilt, which they plan to raffle off as a fundraiser for their pilgrimage to World Youth Day. Teens, chaperones, and parishioners all came together for the project. Dawn Haun, a local quilter, volunteered to lead the project and teach the teens and adults how to sew. It took the group about nineteen hours total to complete the quilt. The fabric for the quilt was donated by parishioners and local quilters.
Kellene Murdick, the fundraising coordinator for the trip, said: "One of the goals of the quilt project was to allow the teens and chaperones to participate in a team building activity before traveling abroad together."
The quilt was blessed by Father Andrew Wojtan on July 18. Father Andrew, who will be joining the group on the pilgrimage to World Youth Day, says he hopes for the teens to grow closer to Jesus.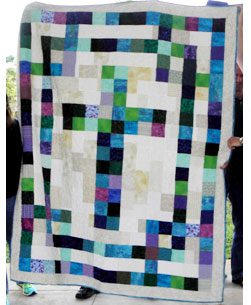 Kyle Eaton, one of the teens traveling to World Youth Day with Holy Spirit said: "I decided to go to World Youth Day as soon as our Life Teen program announced they were going, I want to go to World Youth Day because it would be an international event with thousands of other kids, and the Pope, all of us praising God in different languages."
Eden James, a junior chaperone, said: "I love to travel. I always have, even from a young age. I've always been curious to experience World Youth Day, especially after the death of Saint John Paul II. He has always been someone I admire. I loved the energy and effort he put into making teens feel important and how he dedicated a special day to us. He gave us the opportunity to show our faith and share it with people around the world. It's a big deal."
Editor's Note: World Youth Day is a worldwide event with the Pope that usually occurs every three years. The last World Youth Day was held in Rio de Janeiro in 2013. World Youth Day was started by Pope St. John Paul II in 1985, the United Nations' International Youth Year. The first World Youth Day was held in Rome, Italy in 1986 and the first international World Youth Day was held in Buenos Aires, Argentina the next year. World Youth Day is open to all young people who wish to encounter Christ and deepen their faith. In 2016 the event will be held in Krakow, Poland.