On June 18, Pope Francis released his much anticipated encyclical on the environment – Laudato Si' or "Praise be to You." At the heart of his message, Pope Francis asks, "What kind of world do we want to leave to those who come after us, to children who are now growing up?" (160).
He reminds us of the words of St. Francis, who in his Canticle of the Creatures, noted that the earth, our common home, "is like a sister with whom we share our life and a beautiful mother who opens her arms to embrace us" (1).
Bishop John Noonan said the encyclical, which he describes as a "meditation on creation," is calling on each person to truly examine their relationship with God and the world.
"The encyclical is Catholic theology, straight out of Genesis. It talks about God creating the world and how do we relate to that creation," Bishop Noonan said. "It is about our relationship with God, our relationship with one another, and our relationship with God's creation."
One example in our diocese of caring for God's creation is found at Bishop Grady Villas, a residential community in St. Cloud that supports persons with disabilities. Residents are growing more than 20 fruits, herbs and vegetables, under the direction of a group of volunteers. The produce is used in the community kitchen as well as in residents' personal kitchens.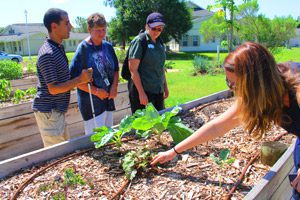 Meagan Gallagher, residential program manager, said a desire to offer more healthy food choices for residents and staff prompted the resurgence of the BGV gardening program and opened the discussion on taking care of nature.
"We began asking, 'How can we incorporate fresh, natural foods in our community?' We changed our menu and now all of our meals are made from scratch," she said. "That was the catalyst to having our own fruits and vegetables grown in-house."
The residents are also blossoming from this experience which has shown them the value of caring for nature and the world around them.
"I think the garden is a wonderful teaching tool," said Jose Feliciano, a volunteer at BGV. "The residents see creation. They see life. You put a seed in the ground. You grow. You harvest. You learn to cook it. Our residents learn it takes care to grow and nurture the plants."
In other parts of the Diocese of Orlando, there is a growing interest in energy conservation and the diocese is continually testing and studying new ways to save energy in our schools and parishes, according to Patrick Barker, facilities director for the Office of Design and Construction.
He encourages the faithful to be mindful of their environment to limit their carbon footprint.
"Human intervention can do a lot to save energy," Barker said. "Simply turning off the light when you leave the room can make a difference. Lighting sensors in rooms are another option. We need to be good stewards of our environment. Saving energy is one way we can all participate."
Barker said the diocese also tries to incorporate new energy saving technologies into design plans of new buildings and utilizes sustainable and re-used materials whenever possible.
The encyclical is calling on Catholics to look at their lives and see what needs to change for the betterment of creation – in all forms.
"Are we treating the world and the people around us with respect or are there things we can do better?" Bishop Noonan said.