Colorful flags, festive dresses and images of the Blessed Virgin Mary were all part of the opening procession of the Marian Mass on Oct. 18 at the Basilica of the National Shrine of Mary, Queen of the Universe in Orlando. A total of 21 parishes and ministries throughout the Diocese of Orlando processed to the altar holding representations of their Hispanic Heritage and also illustrating the importance of the Blessed Virgin Mary in their countries.
"In Puerto Rico, the Virgin Mary is called Nuestra Señor de la Providencia (Our Lady of Providence), but no matter how Mary is dressed or called in different countries, she is the Mother of God to us all," said Frank Rivera, parishioner of St. Mary Magdalen in Altamonte Springs. His wife Carmen adds, "Our Lord Jesus Christ is also what brings us here today. He is the one who moves us to where he believes we should be to make the greatest and most faithful impact."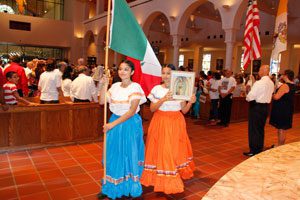 The Misión Mariana (Marian Mass) is celebrated in October during Hispanic Heritage month and the month of the rosary when Catholics honor the Blessed Virgin Mary. It is a beautiful time where Hispanics gather to celebrate what is important to them: faith and culture.
"This is a great opportunity to come together as a community and celebrate our cultural identity," said Tomas Evans, Director of Hispanic Ministry at the Diocese of Orlando. He planned the celebration. "It's beautiful to see the procession of our Lady with all the national flags and have our brothers and sisters dressed with their typical colors."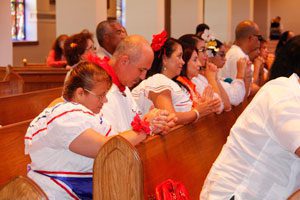 Hundreds of men, women and children participated by dressing in elegant attire that represents their country including Ana and Maria Flores from St. Mary of the Lakes, Eustis. The teenage sisters showcased a Panamanian dance during their parish's International Day earlier this month; earning them a personal invitation to represent Panama during the Marian Mass.
"We don't get to meet a lot of Panamanians in Florida, so it is nice to be able to represent our country and for others to see us in our outfits," said Ana, 17. "We have grown up in a really religious family and we go to church every Sunday. This Mass is another way for us to be involved in the Church as a family."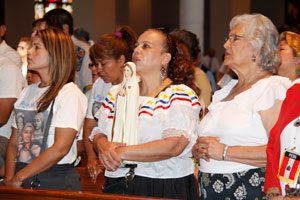 Maria describes the importance of the dresses she and her sister are wearing by carefully touching the white and yellow fabric saying, "What Ana is wearing is what women in Panama would wear for work. It is less luxurious, but still formal," said Maria, 14. "I am dressed in what ladies would wear for weddings and special events; a white dress, the gold headpiece and the pulled back hairstyle. It is all an important part of our culture."
During the homily, Bishop John Noonan spoke in Spanish addressing the Hispanic community on how important it is for everyone to come together to share a piece of their culture during this significant month.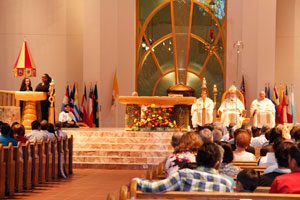 "What joy it is to see everyone here celebrating the Marian Mass during the month of the rosary," said Bishop Noonan. "Everyone gathered is dressed in the colors and fashion from their countries carrying images of the Blessed Virgin Mary. This celebration is truly one that touches the heart and for all of that, I thank you."
For Frank, Carmen, Ana, Maria, and all those gathered, the Marian Mass is one that links cultures together with a focus on faith.
"We are united as one thing, one Church," said Frank. "We are all a family who believes in Christ."