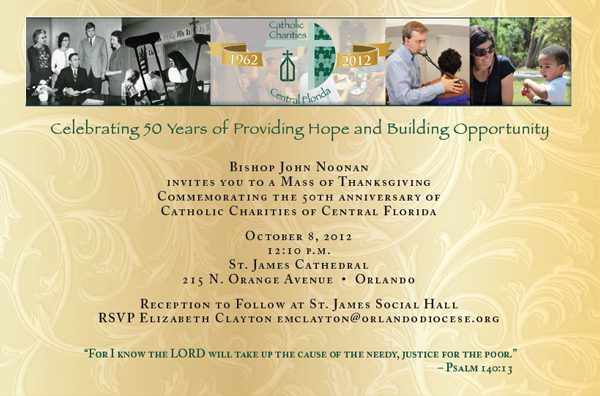 Bishop Noonan will celebrate Mass on October 8 at St. James Cathedral, 215 North Orange Avenue, Orlando, at 12:10 p.m. All are invited to join in prayer and thanksgiving. The Mass will be followed by a reception at the St. James social hall.
On October 8, Catholic Charities begins its 50th jubilee year of providing hope and building opportunity in Central Florida.
Founded in 1962 to serve the poor and vulnerable, Catholic Charities has since grown to become one of the largest social service agencies in Central Florida, providing critical services to those in need regardless of their religious, social or economic background.
In the beginning, programs focused primarily on adoption and pregnancy services for unwed mothers, as well as refugee resettlement services for newly arrived Cuban and Vietnamese refugees. Today, Catholic Charities operates nearly 40 programs in five regions in the areas of strengthening families, preventing homelessness, alleviating hunger, providing access to healthcare, providing affordable housing, and welcoming the stranger. Dedicated staff and volunteers allow the agency to assist an average of 120,000 people each year.
Catholic values and tradition have always formed the foundation of the work of Catholic Charities. Seeing the face of God in every person they serve, they answer the challenge in the Gospel of Matthew, "'Amen, I say to you, whatever you did for one of these least brothers of mine, you did for me.' (Matthew 25:35-40)
To RSVP for the reception, please email Elizabeth Clayton, emclayton@orlandodiocese.org.