What is National Marriage Week?
According to the USCCB, National Marriage Week is from February 7-February 14th. Sunday, February 13th is World Marriage Day. This week invites people to focus on building on a culture of life and love. This starts with encouraging, supporting and promoting marriage and the family. The 2022 theme is
Called to the Joy of Love.
Bishop's Letter on National Marriage Week
Is there a special Mass for married couples?
Yes! Join Mass for Marriage at St. James Cathedral or via livestream on Facebook and YouTube on Saturday February 12, 2022 at 10 a.m.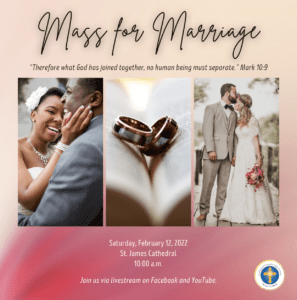 What is a prayer for married couples?
Almighty and eternal God,
You blessed the union of married couples
so that they might reflect the union of Christ
with His Church:
look with kindness on them.
Renew their marriage covenant,
increase Your love in them,
and strengthen their bond of peace
so that, with their children,
they may always rejoice in the gift of
Your blessing.
We ask this through Christ our Lord.
Amen.
How do I celebrate National Marriage Week?
For Your Marriage shares resources to build on your marriage throughout the year including but not limited to podcasts, tips and more.
How do I build a deeper bond with my family during COVID?
For Your Marriage provides resources and tips on how you and your family can grow closer during these difficult times.