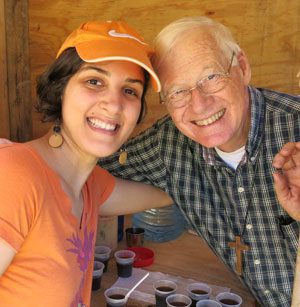 For decades, the villagers of La Cueva and La Cucarita in the Dominican Republic have had to endanger their lives to cross a mountainous region dividing the two communities.
Things are about to change for these hard working men, women and children who are seeking to better their lives and to be more connected to the rest of the world.
Thanks to missionaries from the Diocese of Orlando and over 200 volunteers from the Dominican Republic, a new bridge linking the two villages has been built to provide a safe route for passage.
The bridge construction project was first envisioned in 2013 when Father Eamon Tobin of Ascension Parish in Melbourne visited the Dominica Republic and saw the dire conditions first hand.
For years, people have been using rocks and tree trunks to build a makeshift bridge to cross the creek below. It's often difficult to construct roads for the villages in the mountainous and remote region of San Juan de la Maguana, the Diocese of Orlando's sister diocese since 1983. There are few resources, no access to machinery and skilled engineers, no funds and rainy weather conditions.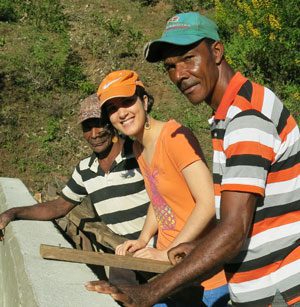 Since February, Father Fred Ruse Diocese of Orlando pastoral minister in the Dominican Republic (pictured above with volunteer), and countless others have persevered through abysmal weather conditions, and machinery malfunctions to build a durable bridge that will now provide security and opportunity for many families.
"When it is the rainy season here, the creek dividing the villages fills up with water close to the dirt road making it almost impossible for the villagers to cross," said Father Ruse.
"The villagers need to have access to development and basic human services such as easier access to imported food supplies," added Father Ruse.
Over 200 people have assisted in the construction of this bridge.
"Everything is manual labor here," said Father Ruse. "Without the hands of dozens of people passing cement buckets or taking a day to assist in inventory, this wouldn't have been possible."
The bridge is also necessary to spread the faith, evangelization and education.
Father Ruse said the goal is to provide more sacramental ministries and faith formation opportunities to different villages. For example, the village of Las Lomas is currently in Sacrament celebration mode.
"Six communities are celebrating first Holy Communions, three communities have presented children for Baptisms, various communities are seeking the opportunity to celebrate the Sacrament of Penance," said Father Ruse. "Celebrations like these reveal how the mystery of faith, Jesus' passion, death and resurrection weaves its way through our lives."
The bridge is named after Ascension Parish to honor their $33,000 donation which made the bridge construction project possible.