Throughout the world, Catholics continue to celebrate the Year of Consecrated Life — Nov. 30, 2014-Feb. 2, 2016– a year dedicated to the promotion of religious life. In his announcement of this special year, Pope Francis called on the Church's religious sisters, brothers and priests to "wake up the world" with their testimony of faith, holiness and hope. Pictured left to right: Father Patrick Quinn, T.O.R., Father Giles Schinelli, T.O.R., and Third Order Regular Franciscan Brother Patrick Corrigan.
In the Diocese of Orlando, three have recently heeded that call and have embraced religious life, journeying in faith to serve the Lord.
On June 21, Third Order Regular Franciscan Brother Patrick Corrigan professed his first vows of his order before a group of about 100 family, friends and faithful. The ceremony took place during Mass, celebrated at San Pedro Spiritual Development Center in Winter Park.
Father Giles Schinelli, T.O.R., pastoral administrator of San Pedro, said Brother Corrigan spent time as a novitiate, training and preparing for religious life. Now, after professing his first vows, he will continue his journey of faith, and after three years, if considered laudable, he will profess his final solemn vows.
Brother Corrigan was ready to continue his journey. "I am very excited to be joining the Franciscan brothers, to follow in the footsteps of St. Francis and to live a life of service," he said before the start of Mass. "I feel very blessed today to have all of my Franciscan brothers and sisters here with me today, as well as my family and friends who have traveled from Ireland. I feel very blessed with their presence and their love and support."
During the ceremony, Brother Corrigan knelt before Father Patrick Quinn, T.O.R., who celebrated the Mass that evening, and professed to give his life to God, living in poverty, chastity, and obedience.
"Therefore with all my heart I give myself to this brotherhood that through the work of the Holy Spirit, the intercession of the Immaculate Virgin Mary, our Father Francis and all the saints, I hereby give my consecration to the service of God, the Church and all of the people," he vowed.
"On this day, I welcome you in the names of the prophets into our fraternity," said Father Quinn, "and it is our hope and our prayer that in this vocation you are going to experience that profound love of God and become more convicted in your faith as you witness the Gospel in the footsteps of St. Francis."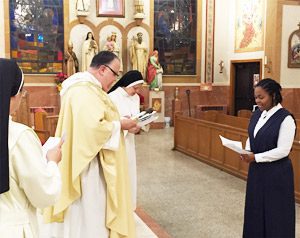 As Brother Corrigan enters the next stage of formation, Evelyn Bernard (pictured far right), 25, of St. Jude Parish in Ocala is embarking on her journey to become a Mercedarian Sisters of the Blessed Sacrament in Ohio.
In 2011, as her graduation from the University of Florida approached, Bernard began to question her calling in life. One thing she knew was that she did not want to go to graduate school.
"I was always interested in religious life since I was a little girl, but I did not know how to discern that call," Bernard said. "After graduating from college, I decided I needed to start getting serious about my faith and see what that calling actually meant."
After spending time as a missionary in Louisiana, Bernard knew she was called to religious life. Now the question was, "Which community do I choose?"
Bernard researched the various religious communities and visited many of them. She had decided on a community when her friend contacted her and invited her to a discernment retreat in Baton Rouge for the Mercedarian Sisters of the Blessed Sacrament.
"I wasn't sure what to do," Bernard said. "I had already committed to a community, but I also wanted to see my friend. I ultimately decided to go, and as I got to the gate to where the retreat was being held, I felt a profound peace come over me. I had found my community."
On Aug. 15, Bernard will take the next formal step in her journey to religious life and will become a postulant, living in community with the Mercedarian sisters in the Mother House Cleveland.
"The joy of this journey has been found in all of the grace I have received and in feeling God's prompting and assurance of I am doing what he wants me to do," Bernard said. "God is in control of my life, and as long as I surrender and follow him, I am going to be happy. I am overjoyed."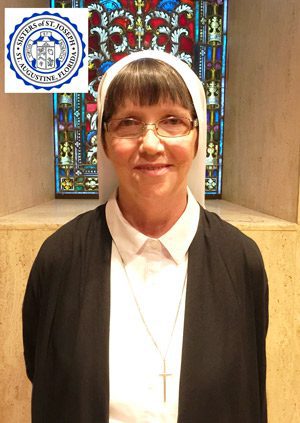 Another local woman who is pursuing a religious vocation is Grace Ford (pictured, left). She was received into the novitiate of the Sisters of St. Joseph on June 7th at their motherhouse in St. Augustine.
"I continued to pray and discern my call with the help of my spiritual director and loving community. With great joy and anticipation I moved into the Motherhouse and what a journey it has been," Sister Ford wrote in a recent reflection.
Steps of discernment for Sisters of St. Joseph of St. Augustine
A young women who feels called by God to spend time and prayer looking at consecrated religious life as a Sister of St. Joseph will embrace the following path of discernment:
Inquirer: She remains in her own home and work, but begins to read about and visit various religious communities while being in contact with the vocation director. (8-12 months)
Postulant: When she experiences a stronger attraction to our community she seeks permission to live in community with our sisters, while maintaining her own work and finances. She enters into a spiritual formation program which includes theology, prayer, Scripture and the history of religious life in the church. (1-2 years)
Novice: As novice she is called "Sister," continues her spiritual formation and study of community history and spirituality. The second year gives her the opportunity to experience the mission in a variety of ministerial situations. (2 years)
First Vows: The young Sister professes annual public vows of chastity, poverty, and obedience and continues to live and minister with the Sisters. Her vows are professed to God though the community. (3 years)
Final Vows: The young Sister professes perpetual vows of chastity, poverty, and obedience. (By Canon Law she is given nine years in which to make this decision.)