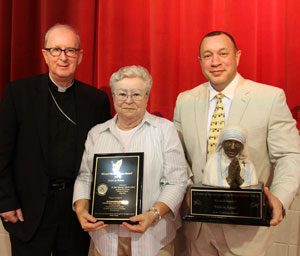 St. John Vianney Catholic School (SJVCS) in Orlando and Father Lopez Catholic High School (FLCHS) in Daytona Beach were awarded the Diocese of Orlando's third annual Blessed Mother Teresa Award, given in recognition for service projects completed during the 2013- 2014 academic year.
"The reason we began this award was to highlight the Corporal Works of Mercy that Mother Teresa exemplified throughout her life," said Henry Fortier, superintendent of schools for the Diocese of Orlando. "We wanted to make sure that we highlighted in our schools all of the amazing acts of charity and generosity that our students do every day.
"We have many awards for sports; we have many awards for academics," he continued. "We wanted to make sure that the core of who we are – service – and using our gifts and talents to give back to God were highlighted as just as important as everything else."
SJVCS was honored for its work with Give Kids the World, a nonprofit resort in Kissimmee for children with life-threatening illnesses and their families. For the past 10 years, students on the SJV Junior High Tag Team (Teens in Action Group) have been volunteering on the first Friday of the month throughout the entire year at the resort's Gingerbread House. Working from 5:30-8:30 p.m., students interacted and assisted guests all the while helping keep the restaurant clean and tidy.
Sister of St. Francis Elizabeth Murphy, principal, had tears in her eyes as she accepted the award on behalf of the school from Bishop John Noonan during a surprise, all-school assembly on May 9.
"Our students reach out far and wide," Sister Murphy said. "We are teaching our children to give back. We are fortunate. I thank you from the bottom of my heart."
FLCHS principal Lee Sayago accepted the high school award during the celebration of the baccalaureate Mass on May 30. FLCHS was recognized for its participation in Helping Hands, a meal-packaging event sponsored by Catholic Relief Services and Stop Hunger Now and aimed at feeding the hungry of Burkina Faso in West Africa. On April 16, students packed 24,000 meals.
Leading up to this event, the art department sponsored an Empty Bowls project, in which soup bowls designed and created by students were sold, and, in January, the school held its Sixth Annual Homeless Lockout, during which 90 students slept in the school's outdoor courtyard to raise awareness and funds for the plight of the homeless.
"It is such a blessing because it is a way of letting everyone know the good work our students do," said Marie Gallo-Lethcoe, director of Mission Effectiveness and theology instructor.
Lee Sayago, principal, agreed, saying, "This is a wonderful tribute to what we try to accomplish at the school."
Both schools received a statue of Blessed Mother Teresa, which will remain on campus until next year's winners are announced, a plaque to display permanently in its building, and $1,250 to give to its favorite charity.
Editor's Note: The seven Corporal Works of Mercy are: feed the hungry◦give drink to the thirsty◦clothe the naked◦shelter the homeless◦visit the sick◦visit the imprisoned◦bury the dead