Sister Rosemary Lorenzen, Sisters of St. Joseph of Brentwood
In celebration of the Year for Consecrated Life, we feature a series of articles told by religious sisters and religious order priests and brothers, who will share the joy of their vocation. Sisters of St. Joseph of Brentwood Rosemary Lorenzen shares her story.
The Sisters of St. Joseph were my teachers in elementary and high school, so I knew them very well. Still, I had no desire to become a sister at that point. One day, a sister who taught me in high school asked, 'What are you going to do when you graduate?' I told her that I was not sure what I am going to do. She suggested that I become a Sister of St. Joseph.
At that point I was going out with a fellow in the Navy who wanted to get married. One day – and I don't know what happened — but the thought of getting married didn't appeal to me anymore. I went back to the sister, and I said to her, 'I think I want to become a Sister of St. Joseph.' This all happened when I was a senior in high school.
I entered the community in 1952 and made my final profession in 1958. I think in the back of my mind, I wanted to be a sister all along. I have not regretted my decision for one minute.
Throughout my ministry, I have taught and taught and taught, in New York and Florida. I started off as a first grade teacher. During that time, I also graduated from St. Joseph College in Yonkers, N.Y. with my undergraduate degree in math.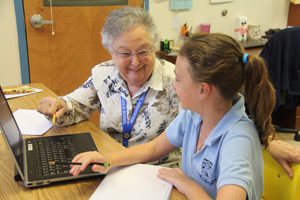 I earned my master's degree in math from Manhattan College in New York and taught seventh and eighth grade math until I retired from Good Shepherd Catholic School in Orlando in 2009. (Editor's note: Sister Lorenzen moved to Florida in 1987.) Now I go back to the school four days a week and I tutor after school for two hours. One day a week, I visit the sick in the parish. I go to five people who are homebound.
The joy of my vocation has been working with the children. I have gotten so close to some of them and I have been important in some of their lives. So many times, people will come up to me after they have grown up and will say that I meant something to them in their lives. That to me is wonderful.