In the Gospel of Matthew Jesus issues an invitation to two fishermen, Peter and Andrew, "Come after me, and I will make you fishers of men." Their response was immediate, "At once they left their nets and followed him." (Matthew 4:19-20) The example set by Jesus remains the most effective way to make disciples – by personal invitation.
On July 31 – August 1, all thirty-nine seminarians of the Diocese of Orlando gathered at the San Pedro Spiritual Development Center in Winter Park for the annual Seminarian Convocation, an opportunity to come together at the end of their summer assignments and spend time in prayer and fellowship before returning to seminary for the fall semester. For many of the men present, their vocation journey began with a simple but profound invitation, "Have you ever considered becoming a priest?"
When Tom Pringle, now a 2nd year pre-theology student at St. John Vianney College Seminary, was asked that question by a priest as a college sophomore his heart sank. He had been avoiding that question for many years.
"It was something that I really didn't want to look at very much and didn't want to think about," remembers Pringle. "His question really opened up a place in my heart where I asked, 'What does the Lord want me to do with my life?' Then on Palm Sunday I had an incredible experience in prayer where I got my answer and the Lord made it clear to me that this was something he wanted me to do."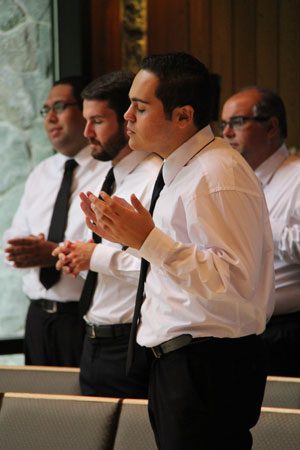 It is an almost universal experience. Consistently over the years, 80-88 percent of ordination classes surveyed report that it was a priest who first invited them to consider the priesthood. Father Jorge Torres, Diocese of Orlando vocations director notes that while it is his job to help a man continue his discernment, it is the parish priest who can best start the conversation.
"They are the ones there day in and day out, anointing the people and serving in all kinds of ways. They are the ones inspiring these young men," said Father Torres.
For Edwin Cardona, a 4th year theology student at St. Vincent de Paul Regional Seminary, not only did one of his parish priests first ask him to consider the priesthood, he even drove him to visit the seminary in Miami in his senior year of high school. The daily witness of the priests that he knew had a big impact on his own decision to enter seminary after graduation.
"My parish priest means a lot to me, especially Father Jose Bautista. He was the first one that I would consider a spiritual father," reflects Cardona. "He walked with my family through a very difficult time and he became a spiritual father to me. Every time I come home I see that joy that in his face, like a proud dad when his son comes home from school. Just to know that I always have that support from him, I'm very proud to be his son."
Father Torres says that while not every invitation will result in a positive response priests should not give up. It can take up to three invitations before a man starts to take discernment seriously. Or, like Pringle, they may be afraid to face the sacrifices and life-changing decisions that a vocation to the priesthood requires. Based on his own experience, Pringle says he would tell priests to keep issuing that invitation, because they can never tell what is going on in a person's life.
"You never know what kind of seed you plant and how that seed will bear fruit in the future. So invite young people to be involved in parish ministries and invite them to take an active role in the liturgies. Be open to them and share your life with them. Really allow them to see the joy that the priesthood brings to you because that was a major part of my own discernment.
"Throughout my life I've had a lot of parish priests who have meant so much to me and have been incredible witnesses of faith, great fatherly examples for me. Having their example and their witness has been an incredible experience for me and transformative in my own life. It really showed me how the Lord works in the lives of the faithful."