Although Father Sean Cooney retired as Pastor of Sts. Peter and Paul Parish in Winter Park 11 years ago, he is still serving God through his ministry. He helps in various ways such as administering the Sacrament of Penance and celebrating Mass.
Father Cooney joined 39 other priests for the first Diocese of Orlando Aging with Grace Retreat at San Pedro Center in Winter Park Nov. 3-4. The retreat's goal was to show priests who are currently retired or near retirement age that the best years of life are yet to come.
Father Cooney says the retreat provided new insights for a ministry he started at Sts. Peter and Paul Parish for adults ages 55 and over. The Prime Time Ministry helps those in the prime of their life to live agelessly, become more enlightened and grow in faith.
"I found it challenging for one thing, but it was also a really supportive retreat," said Father Cooney. "Some people worry about identity issues when you stop being a pastor, but there's a great deal that can still be done and a great opportunity to keep in touch with the spiritual wellbeing of your parishioners."

The keynote speaker was Dr. Richard Johnson, pictured below, who is nationally recognized for his work in spiritual gerontology and maturing adult faith formation. He designed the workshop to educate priests on how to gain a new perspective on retirement. He urged attendees to prepare for this new stage of life by developing new hopes and dreams for the future and to strive for inner illumination.
"For priests, I am interested in their wellbeing, and their ongoing physical, emotional and spiritual wellness," said Dr. Johnson. "We want all priests to find their true ministry after pastoral responsibilities; a new foundation for their vocation throughout retirement."
Dr. Johnson said living optimally in the second half of life demands that priests engage proactively in the great life adventure of expressing the gifts of the Spirit which God has implanted in them. Retirement is perhaps the greatest time for self-discovery.
Franciscan Father Robert D'Aversa, Pastor of St. Patrick Parish in Mount Dora, believes retirement should be focused more on purpose than age.
"Retirement is not an age related thing, it is in fact an interior disposition that this retreat is inviting us to examine," said Father D'Aversa. "It's about moving into the purpose of being a figure of wisdom and the continuation of mentoring people even though a priest is relieved of administrative duties."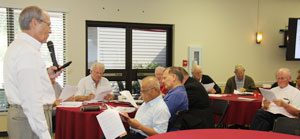 The Aging with Grace Retreat also shed light on how retired priests can share their own experiences of spiritual development among fellow retired Catholics. Father D'Aversa said a good portion of his congregation is made up of retirees who might not participate in church ministries anymore since they have adult children, but he urges them to realize they still have an important role in the community, especially by serving as an example to the younger generations.
"Retired parents of adult children can still be a mentor by showing them that Church is important in all stages of life," said Father D'Aversa.
Manager of Services for Senior and International Priests, Dan Hardester, coordinated the retreat with Father Ed McCarthy, the diocesan Vicar for Senior Priests. They intended to give priests new resources to make the most of their senior years and to engage with other seniors who are searching for purpose as they become maturing adults.
"As Dr. Johnson said, we are living 30 years longer than at the turn of the last century, so priests are now experiencing their own senior years and senior years of the parish population," said Hardester. "This is a time of invitation to an ever deeper spiritual life for our priests. It is beneficial to find the language to speak about it and give it practical perspective."
Attendees learned that retirement is not the end to a lifelong vocation, but about making retirement the most satisfying, fulfilling and personally captivating time of a person's life that centers on Christ.
"From a spiritual standpoint, I think Jesus expects something from us, we have to be servant leaders as retired people out there," said Dr. Johnson. "The power of the Holy Spirit can transform an ordinary retirement into an exceptional journey of discovery."