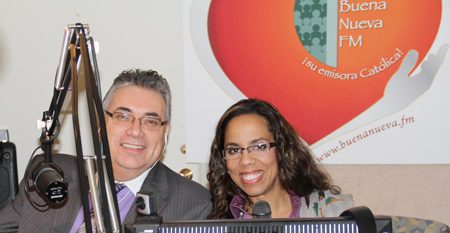 Buena Nueva FM, the Diocese of Orlando's Catholic radio ministry will be broadcasting live for 60 hours on Nov. 17 – 21 from 8 am to 8 pm for their annual Thanksgiving Radiothon.
Hosts Marjorie Durante and Tomas Evans will be on the air proclaiming the Good News of Jesus Christ and asking for financial support to keep this important ministry operating through 2015.
Leading up to the radiothon, Buena Nueva has been encouraging listeners to pray for the success of the radio ministry so that their programming will touch the hearts and souls of listeners and lead them to Christ.
The programs on Buena Nueva range from music to talk and Spanish to English. Listeners hear the celebration of daily Mass, important announcements from our bishop, along with various local, national and international catholic programming. Buena Nueva broadcasts 24 hours a day, 7 days a week with programming from EWTN, Radio Paz as well as airing many locally produced programs. The programs seek to enkindle a deeper faith of listeners.
The station broadcasts on a subcarrier channel that can be heard at 104.1 FM on a specially purchased radio or via the internet at www.buenannueva.fm or www.buenanueva.fm/English. The programming is available to listen to on mobile devices and can be streamed from iTunes, (search Buena Nueva FM Podcasts on iTunes or your podcast app).
To send a donation:
Buena Nueva FM
PO BOX 1800
Orlando, Fl 32802-1800
For more information, contact Marjorie Durante at 407-246-4884 or mdurante@orlandodiocese.org.