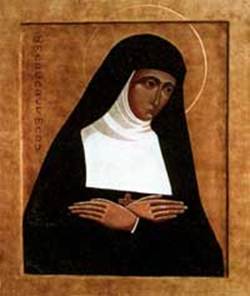 Two parishes in the Diocese of Orlando will display a relic of St. Margaret Mary for the faithful to venerate. This is the first time for the Diocese of Orlando and the second time the relic has ever been received in the U.S. from the Visitation of Our Lady in Paray le Monial, France.
On October 22, the relic will be at Annunciation Catholic Church in Altamonte Springs and Fr. Stephen Parkes, Pastor, will celebrate a Mass at 7:00 p.m. and invite the faithful to venerate the relic by genuflecting, touching the reliquary (the vessel which contacts the relic), and participate in other devotions.
On October 23, the relic will be at St. Margaret Mary Catholic Church in Winter Park and Fr. Richard Walsh, Pastor, will also celebrate a Mass at 5:30 p.m.
During the Year of Faith, a Plenary Indulgence is offered for participation in the celebration of Mass at both Annunciation and St. Margaret Mary.
The Church has always honored relics (a part of a saint's body, any part of their clothing or something closely connected to them) of the saints and martyrs because the Church recognizes that in honoring the saints and martyrs in this way we also honor Christ for whom they lived and died. Thus, relics are meant to inspire us with a greater devotion to God through a particular saint's example; in this case, the example of St. Margaret Mary, who received visions of the Sacred Heart of Jesus and inspired a new devotion to Christ and a greater understanding of Christ's love and mercy for us.
The Servants of the Pierced Hearts of Jesus and Mary, a new religious order that was recently welcomed into the Diocese of Orlando, obtained permission from the government of France to bring the relic to the United States and it was first venerated at a parish in the Archdiocese of Miami. The relic belongs to the order of the Visitation of Our Lady in Paray le Monial, France.
As we celebrate the Year of Faith, the reception of the relics is a wonderful moment to reflect on the saints who model a life of faith filled devotion to Jesus Christ.