Begin the Year of Faith reflecting on Scripture, reawakening your faith, and connecting faith to life during this sacred season of Advent.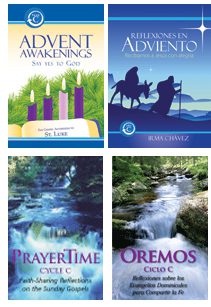 Anticipate the celebration of the birth of Jesus and the day when the risen Jesus will come again. Advent Awakenings contains 4 faith-sharing sessions based on the Sunday Gospel readings, plus seasonal devotions for families to use at home.
Disponible en español: Reflexiones en Adviento
Reflect on the Sunday Gospel readings for all of liturgical year C (beginning Advent 2012) with Prayertime. Gentle and insightful reflections help the gospel come alive. Now updated to include the feasts and solemnities that fall on Sundays!.
Disponible en español: Oremos
For these and other fine faith-sharing resources, visit us online at www.renewintl.org/store
Any questions? Call Lynn at 1-888-433-3221 ext. 106.