'It was wonderful to see how God works through each of us' – Seminarians gather for weekend of prayer, renewal and brotherhood.
After spending their summers serving others, seminarians for the Diocese of Orlando gathered for a weekend of prayer, renewal and brotherhood Aug. 3-5 at San Pedro Spiritual and Developmental Center in Winter Park. The retreat offered the men, all in different stages of formation, the opportunity to build and renew friendships, as well as learn and grow from each other, before returning to their respective schools.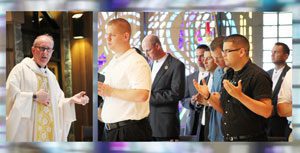 "This retreat is a time of community and fraternity as we welcome the new seminarians and guide them as we were guided by those before us," said Mitchell Smith of Orlando, a fourth-year seminarian.
Blake Britton of St. Cloud, who is also in his fourth year of studies, said fraternal charity is crucial, especially during the early years of formation.
"You have the older seminars who are further along in this journey in formation towards the priestly heart of Jesus Christ inviting the younger to enter deeper into that mystical relationship with Jesus Christ," he said "It is beautiful to see your brothers praying and pursuing their vocations, and that inspires the younger ones to do the same."
"The Lord calls us to be brothers to each other, to care for each other, and to support each other. We are bound by our unique calling to serve the Lord. No priest could make this journey alone," said Father Jorge Torres, director of Vocations, adding that the bonds that the seminarians build during their formation years will give them strength throughout their priesthood. "The friendships I formed during my formation remain with me today. While some of my brothers chose not to enter the priesthood, I still remember the remarkable conversations we had and the time we shared in prayer. The seminary truly marks a soul for life."
First-year seminarian Richard Monteverde of Winter Haven, said the time he has spent with his brothers during the retreat has helped him reaffirm his decision to enter the priesthood.
"For year, I struggled to find meaning in my life," he said. "After graduating from high school, I joined the military, earned my degree in IT and went to work. Still, there was a void in my life. It wasn't until I answered God's call did I find fulfillment. It was wonderful to see how God works through each of us and to hear the different stories as to why my brothers chose priesthood. I have built many friendships this weekend and now have a nice support system in place as I enter St. John Vianney College Seminary this fall."
Now in his final year of formation at St. Vincent de Paul Regional Seminary, Deacon Ben Lehnertz offered some sage advice to the incoming seminarians, "Don't rush through formation. Don't look too far ahead. Don't think about the seven, eight, nine years ahead of you before ordination. Appreciate this year for what it is. Take one thing away from each class that you can integrate into who you are and what you do. Take something from each lecture to prayer and bring it to conversation with the Lord. Don't let academics be something that is isolated from your life, but rather something that is truly integrated. Bring your work to prayer and to conversation with friends. Enjoy these years."