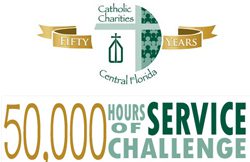 The Thanksgiving, Advent, and Christmas seasons are times when we especially remember our poor and vulnerable brothers and sisters as we prepare for and celebrate the coming of Christ. Catholic Charities of Central Florida offers several opportunities to practice Christian charity and share our blessings during this season of giving. All of these service opportunities will help Catholic Charities reach their goal of 50,000 hours of service during the 50th Anniversary Jubilee Year.
Thanksgiving and Christmas Meal Baskets – Prepare a basket to allow a struggling family to enjoy a traditional Thanksgiving or Christmas meal. Contact anita.capetillo@cflcc.org for a list of needed items.
Adopt –a-Family – Catholic Charities has run the Adopt-a-Family program for over 15 years, providing families in need with gifts at Christmastime. Catholic Charities will begin assigning families to interested groups in October, providing a list of each family member's age, size, and desired gifts. These include an item for each parent and a complete set of new clothing and an age-appropriate toy for each child. Families range in size from two to 10 people. Groups are encouraged to plan shopping days, host gift wrapping events, write Christmas cards, and pray for their adopted family. Contact the Catholic Charities office in your area to request a family.
Regional office addresses and contact information:
Central Region (Orange, Seminole, Osceola) Anita Capetillo 1771 N. Semoran Blvd. Orlando, FL 32807 Main: (407) 658-1818 Fax: (407) 282-2891 Toll Free: 888-658-2828
Northern Region (Lake, Sumter, Marion) 1321 Sunshine Ave. Leesburg, FL 23748 Main:
(352) 460-0700 Fax: (352) 460-0701 Toll Free: 888-658-2828 (ext. 4111)
Eastern Region (Volusia) 207 White Street, Daytona Beach, FL 32114 Main:
(386) 453-3508 Fax: (386) 238-0048
Southern Region (Brevard) 3800 West Eau Gallie Blvd, Ste. 101 Melbourne, FL 32934
Main: (321) 636-6144 Fax: (321) 631-4209
Western Region (Polk) 1801 E. Memorial Blvd. Lakeland, FL 33801 Main: (863) 686-7153 x 3019 Fax: (863) 683-5515 or 532 Avenue M. NW, Winter Haven, FL 33881 Main: 863-299-7983
Christmas Outreach to Seniors – Bring holiday cheer to our seniors at St. Joseph Garden Courts in Orlando, St. Anthony Garden Courts in St. Cloud, and Lake Morton Senior Center in Lakeland. Suggested activities include: Christmas caroling, Christmas crafts, Christmas cookies and cards.
Food Drives – Help keep the shelves full at local food pantries. Contact Catholic Charities for unique collection ideas or a list of most needed items. Call 888-658-2828 x 2020 or email anita.capetillo@cflcc.org.