The girls' varsity volleyball team at Bishop Moore Catholic High School served up a winning season this year and a local religious sister provided a major assist. Picture by David Jester.
Sister of St. Joseph of St. Augustine Kathleen Power served as the team's chaplain providing spiritual guidance and so much more. Throughout the season, she also cheered the girls on during home games.
"I am so pleased to be the team's chaplain. I wanted to get to know the girls and I discovered it is a wonderful community of girls and their parents that make up this particular team," said Sister Power.
The idea of a team chaplain is new for the volleyball team.
"This is the volleyball team's first chaplain. Other teams are following suit but this was the first in recent history. We always have great clergy support from our local priests attending games, but this chaplaincy idea is new," said Amanda Livermore, Director of Mission Effectiveness, Bishop Moore Catholic High School.
The varsity volleyball team is made up of 13 players, five coaches, and one manager. The Lady Hornets capped off an excellent year by defeating Bishop Kenny High School, Jacksonville on Nov. 14 for the class 5A State Championship, ending the season 28-4.
"To represent Bishop Moore as state champions is an overwhelmingly great feeling," said team co-captain and senior Katie Kane. "One of our team mottos is that when we play we are not only representing ourselves, but also our team, families, and school. It is a great opportunity and honor to make our school proud."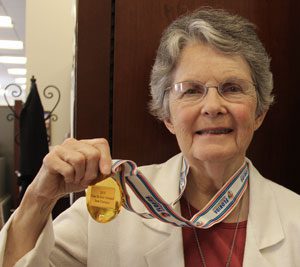 Sister Power (pictured left) has a historic connection to Bishop Moore and to volleyball. She's a graduate from the class of 1959 and in the early 1960s she coached a girls' volleyball team at St. Mary Cathedral in Miami.
Co-captain Lauren Rostkowski said having Sister Power at the games to pray before competition has helped the team tremendously throughout the season. They appreciated her efforts so much that when the athletes received their medals after winning the state championship, Sister Power was brought to the court to receive a medal as well.
"We are so happy Sister Kathleen became part of the Hornet family this year. She leads our team in prayer by joining hands even at the conclusion of every match no matter the outcome," said Rostkowski. "In prayer, we thank God for our blessings and for all the talent he has bestowed upon us. We rely on it during the toughest parts of our season, especially after losses or when we recognize areas in which we need to grow."
The team has made faith a priority. Athletes participated in a team retreat before the start of the season. The theme of the retreat was team building and keeping faith in God and one another.
"We all grew together spiritually and emotionally during the retreat," said Kane. "It was amazing to get to know each other not only as players, but as Christians. I believe this connection, trust and bond in faith helped us persevere through much adversity, such as tough losses and injuries."
Sister Kathleen credits head coach Tanya Jarvis for being a wonderful role model for the team. Jarvis is thrilled for the team's victory.
"It is an amazing feeling to know we as coaches had a part in their volleyball journeys. Speaking from personal experience, this memory and experience will be cherished forever," said Jarvis.