Bishop John Noonan celebrated the Sisters' Jubilee Mass on Oct. 24 while also recognizing the commitment and service of religious sisters and honoring jubilarians who celebrate special anniversaries.
Celebrating 50 years of religious life are: Sister of the Living Word Ruth Platte, Ursuline Sister of the Eastern Province Bernadette Mackay, and Dominican Sister of Adrian, Mich. Rosemary Finnegan.
Celebrating 60 years is Sister of Notre Dame de Namur Gail Grimes.
"We are so grateful to have the opportunity to enjoy each other's company and to socialize with Bishop Noonan who's been so supportive of the sisters," said Sister Finnegan, Director of Adult Faith Formation at St. Margaret Mary Parish in Winter Park. "It's an occasion when we celebrate and nurture who we are."
During Bishop Noonan's homily, he focused on Pope Francis' comments during October's Synod of Bishops in Rome. This year's theme is, "The vocation and mission of the family in the Church and the modern world."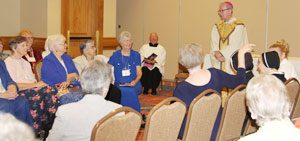 "Pope Francis asked those present at the Synod to have apostolic courage; courage that is needed because the church's attitude can, despite its best intentions, distant people from God," said Bishop Noonan.
Bishop Noonan also encouraged the sisters to find hope in their ministry and in God regardless of the difficulties in life. There is always hope.
Missionary Catechist Sister Magalis Baldovino is one of 30 religious sisters who renewed their perpetual vows during the Jubilee Mass. Sister Magalis recognizes this celebration as a beautiful example of how to continue living her own consecrated life.
"Celebrating the anniversary of our fellow sisters is a moment of upmost appreciation," said Sister Magalis. "These sisters are ahead of us, guiding us, setting the example, if they have reached this milestone, so can the rest of us."
Bishop Noonan also discussed the importance of evangelizing with humility.
"You are knowledgeable in the work you do, but we must be able to practice humility by emptying ourselves of our own beliefs and prejudices and listen to our brothers and sisters; we must fill them up with God."
At the end of the Jubilee Mass, Bishop Noonan gathered with the sisters for lunch, celebratory gifts and fellowship.