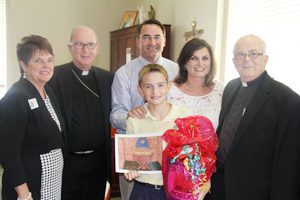 Bishop Noonan personally congratulated him for winning a national art contest sponsored by the Pontifical Mission Society's Missionary Childhood Association. Robert's depiction of our Lord's nativity scene garnered him a first-place honor received by only 23 Catholic grade school students around the U.S. Robert and several of his classmates were asked to design Christmas scenes in their art class. Robert drew a simple scene of the baby Jesus, silently sleeping in a manger in a stable. A star shines brightly outside the stable's window.
"It's wonderful recognition for St. James Cathedral School and the Diocese," Bishop Noonan said. "The artwork is beautiful. He recognized Christmas with the Christ child, the manger – that's what Christmas is all about."
Robert's artwork was chosen as a winner in May, and as a result he and his family have been invited to Washington, D.C., in December, to see his work at the Basilica of the National Shrine of the Immaculate Conception.
Additionally, Robert received a plaque, and his artwork will appear as a Christmas e-greeting on the Missionary Childhood Association website. The artwork will also appear locally – at St. James Cathedral School, as an Advent bulletin cover for St. James Cathedral.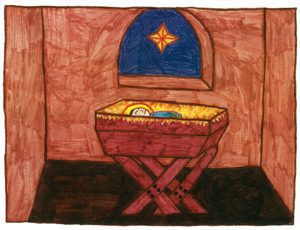 Robert was also congratulated Oct. 23 by the Cathedral's rector, Father John McCormick, the former diocesan director of the Pontifical Mission Society who suggested the school enter Robert's artwork (pictured right; click on it for larger image) into the contest.
"We're very lucky to have students like Robert who do a beautiful job with their art," said Gerri Gendall, principal. "This really shows our Catholic identity and the true meaning of Christmas."
Robert said he hopes his artwork and Catholic faith will be an inspiration to others.
"It could inspire people," Robert said. "If it inspires someone, they could inspire someone else, and that would continue."