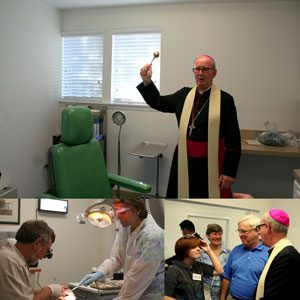 A joyful crowd of doctors, dentists, medical professionals, and volunteers joined Bishop Noonan in the newly renovated second story of St. Luke's Free Medical and Dental Clinic on September 16 to celebrate the completion and blessing of two new exam rooms.
These rooms will allow patients in need to receive skin cancer detection and orthopedic services from qualified specialists. The patients who come here are uninsured and have nowhere else to turn. The additional space will also allow a second dental area to provide hygiene and prevention care in addition to the dental urgent care services that have been offered since the clinic opened in Eustis in June of 2010.
While these services are vital to the uninsured population the clinic serves, Dr. Kevin Taylor, the clinic's volunteer medical director, remarks that it is not that most significant thing they do.
"What the people get in great quantity when they walk through the door is caring. It really doesn't matter if we've had great diagnoses made or done great dental work or saved somebody from cancer. Those are all great things, but the more important basic thing that happens is that we show people that other people care about them when they need it the most."
St. Luke Free Medical and Dental Clinic is a partnership between Catholic Charities of Central Florida, St. Mary of the Lakes Catholic Church, and St. Patrick Catholic Church. Since 2010 the clinic has provided health care and dental services to over 1,500 uninsured individuals each year in Lake County and surrounding areas. Services include primary and diagnostic care, tooth extractions, case management, preventative health education programs, and referrals for prescription medication, medical specialists, and community social services. Medical and dental professionals volunteer their time to provide quality, compassionate care to people in need.
"A lot of good things happen here through the goodness and kindness of a lot of people," remarked Bishop Noonan. "From the doctors, to the nurses, to those who volunteer, to those who help in some small way – it's a wonderful gift together…to treat people with dignity."