'Thank you so much for making our dreams come true'
St. Vincent de Paul's new church is nearly double the size
Feelings of happiness, gratitude and joy filled the sacred space of the St. Vincent de Paul Parish during the dedication and blessing of the community's new larger church on August 27.
"This is a special day," said Maryann Otradovec, who has been a parishioner since 1995. "We have been waiting for this new church for a long time. But now we are here and we are really enjoying it. It is a blessing."
For eight years, parishioners prayed, planned and raised funds, envisioning the day when a new, larger church would be built. As they celebrated in their new home, Bishop Noonan praised their efforts.
"Good people of St. Vincent's, you have done well over these years and I encourage you to continue to grow in your faith," Bishop Noonan said during the Mass of dedication. "We come together tonight to make this church, to make this building, a sacred and a very holy place because this is where you will encounter the Lord, this is where you will grow in your faith."
St. Vincent de Paul began in 1973 as a mission of St. Lawrence Catholic Church in Bushnell. The Sumter County parish grew quickly once a church was constructed in 1994. By 2005, when then-Bishop Thomas Wenski established St. Vincent de Paul as its own parish, the community was already struggling with a lack of space.
The previous church had enough pews and chairs to seat 600 people. During the winter months, 150 extra chairs were added outside when seasonal residents were in town.
The Sumter County parish attracts people from Wildwood as well as the vast retirement community of The Villages, and other areas nearby. The parish would schedule nine Masses each weekend to accommodate the number of parishioners.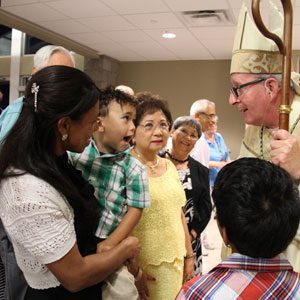 The new church has an estimated seating capacity of approximately 1,000 in the pews. It also features two reconciliation rooms, a hospitality room, and a choir practice room. The design also allows for expansion in the future by adding additional seating area at the transepts and narthex.
"We are responding to the extraordinary growth in The Villages and the Wildwood area," said Father Peter Puntal, pastor. "The church aims at making God more visible, his presence more accessible, and his love more available."
Making their journey even more remarkable is the fact that the parish did not incur any debt in the construction and furnishing of the building. To help fund the project, St. Vincent de Paul parishioners joined the first wave of the Alive in Christ Capital and Endowment Campaign in 2007, eventually raising more than $1.5 million or 163% of their parish goal. The new worship space was built at a cost of $5 million.
"The growth has been dynamic at our parish," said Father Peter Sagorski, pastor of St. Vincent de Paul from 2002 to July 1, 2013. "We started with 167 parishioners, and the church now has nearly 5,000 parishioners. The excellent attitude and support of the community has been such a blessing."
As the celebration came to a close, Father Puntal expressed his deepest gratitude to all involved in bringing the building to fruition.
"Thank you so much for making our dreams come true," he said.
"We give thanks to the Lord for this beautiful church," he said, "and this is a beautiful church because you are beautiful people. This is your church that you built to honor your God.