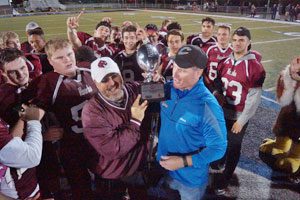 For all the players, coaches, staff members and parents who are a part of Santa Fe Catholic High School's football team, the sport is more than a game, it's a family. The team has come a long way; suffering through injuries, challenging games and the loss of former offensive lineman Gil Kromer who passed away during football season last year. This season however, the team formed a stronger bond through all the adversities they faced; ultimately earning the Sunshine State Athletic Conference Championship title in an undefeated season of 11-0.
"I have coached six seasons of football and by far this is the best season," said head coach Billy Dickerson. "As we started rolling into the season, the boys narrowed their focus and like any other season, they worked extremely hard." The championship game victory was 33-0 against St. Stephen Episcopal School, Bradenton on Nov. 14.
Coach Dickerson said the team is mostly comprised of seniors and he described the Fab Five as quarterback Walker Richards, running back Demario Vanover, and wide receivers Henry Perry IV, Tyree Rodman and Kenard King. Richards—who is this year's team captain—led the team this season with 1,200 total yards and 18 passing touchdowns.
Team Captain Richards, found his faith in God after suffering a torn ACL, which removed him from playing the game last season.
"My faith before my injury wasn't with God, or in understanding what he had planned for me," said Richards. "But I learned God doesn't make mistakes. He is doing the best for me by readjusting my priorities and my past injury has helped me understand and come to terms with that."
Richard credits Coach Dickerson, the other players, and especially teammate John Kromer for helping him along his road to recovery. John Kromer is a senior and younger brother to Gil Kromer.
"When things were hard this year, John really understood what is was like and what he went through last year when his brother passed away, what the whole team went through last year, we all worked together in unison this season," said Richards.
With hard work and determination the team set the bar high for the school. This is the first time Santa Fe Catholic High School brings the SSAC title home in its 54 year history.
"It is truly an outstanding accomplishment for our school and community. I am proud of our boys. It is a special year for us. We went through many injuries last year, the passing of Gil; we had a tough year facing through adversities. To put it back together, and for the first time to win a state title is an honor," said Principal Matt Franzino.
Coach Dickerson said praying before and after the game is what kept the team united throughout the season.
"We all had Gil in the forefront of our minds, so we prayed at the start and end of every game," said Dickerson. "It brought up the team's spirits throughout the season."
Even through the team's hardships, uniting under faith and God made this season truly unforgettable.
"To see us now with a championship, there's nothing like that feeling," said Richards.
Photos courtesy of Layne Hampton Hawkdancer Photography.