Guests of Bishop Grady Villas' (BGV) seventh annual "Achieving Their Dreams" fundraising event showed an outpouring of love and support to the community, donating an astounding $187,310 in one-time gifts and multi-year pledges. The original goal for the event was $65,000.
Kevin Johnson, executive director of Bishop Grady Villas, said he was touched by the response of the people during the event held April 17 at the Doubletree by Hilton, Downtown Orlando.
"I think the response shows how much our mission to support individuals with disabilities resonates with those who have the opportunity to be touched by the stories of those we serve and their families," Johnson said. "I believe that our program effectively communicated the funding gap that we are challenged with as well as presented the opportunities that Bishop Grady Villas has to expand our services, and, as a result, the attendees responded to those needs."
Currently there is a waiting list of 114 for the residential program and employment specialists have full case loads and at times are unable to accept new referrals. Johnson said while the money raised at the event will help BGV serve men and women in the Orange and Osceola counties, his dream is to serve those with disabilities throughout the diocese's nine-county region.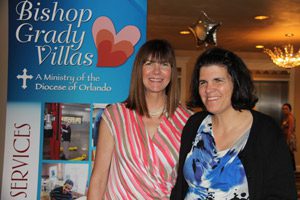 Among the highlights of the morning event was the testimonial of Kelly Weir, the younger sister of Krystn, 55, one of the first residents of Bishop Grady Villas (both pictured: Kelly Weir on left, Krystn on right). Weir fought back tears and also lovingly recounted memories of growing up with a sister with developmental disabilities.
"I have great memories of growing up with Krystn," Weir said, "We used to have so much fun together riding bikes, baking, playing with Barbies, and watching Lawrence Welk and Hee Haw. The most fun we had was when we would set up our orange juice and lemonade stands outside of our house. She really was my built-in buddy, my sister, my friend."
Weir said her parents never allowed Krystn to be labeled. In fact, she was raised with the same high standards as her brothers and sisters. As a result, Kyrstn has a strong work ethic and independent streak. Weir said that independence became apparent 11 years ago.
"During Mass one Sunday, information cards were handed out about a proposed community for challenged adults. It was called Bishop Grady Villas," Weir said. "Unbeknownst to my parents, Krystn filled out the card on her own and mailed it to Bishop Grady Villas. The rest as they say is history, or I should say, her story."
Located in St. Cloud, BGV is a ministry of the Diocese of Orlando that supports persons with disabilities to use their God-given gifts to achieve greater independence, physical and emotional well-being, and spiritual growth. The staff empowers these individuals to reach their full potential through Christ-centered, personalized and holistic residential, vocational and employment services, and community support.
Johnson (pictured with Bryan, a resident at Bishop Grady Villas) noted that BGV's impact will soon reach Seminole County, thanks to the generosity of the faithful of Annunciation Parish in Altamonte Springs. The parish dedicated BGV as its Lenten outreach partner this year. As a result, BGV will soon be able to establish a new dedicated employment specialist position that will serve Seminole County. Annunciation provided the start-up funds to establish the position, which will henceforth be sustained by state contracts, Johnson said. "I believe our success is a result of our commitment to provide Christ-centered individualized service according to each person's goals," Johnson said. "Ultimately, the individuals we serve at Bishop Grady Villas are amazing individuals who inspire those who have the opportunity to know them."
Editor's Note
Learn more about Bishop Grady Villas during "A Place for Belonging," a one-hour informational lunch and tour. Tours are held monthly, with the exception of November and December. To learn more or to reserve your spot, contact David Sokolowski, director of Development, at dsokolowski@bishopgradyvillas.org or (407) 892-6078, ext. 201.