When Matthew was in second grade he was asked what he wanted to be when he grew up. During the celebration of Mass later that day it struck him that he wanted to be a priest. Now an incoming eighth grader, that desire has not gone away. At the encouragement of seminarian Edwin Cardona, Matthew spent the last week of summer vacation attending the Quo Vadis retreat with over twenty other young men discerning a call to the priesthood.
"At my school, if there is someone else who is discerning the call to priesthood, they're not telling anyone about it," Matthew said. "It's kind of nice being around other people who are discerning the call so it's not just me alone."
The Quo Vadis retreat was held August 2 – 5 at the San Pedro Spiritual Development Center in Winter Park and was sponsored by the Diocese of Orlando Vocations Office. Quo Vadis is a Latin phrase meaning, "Where are you going?" and the retreat helps young men ages 13 – 18 learn more about the priesthood, deepen their faith, and better discern God's call in their lives.
"Quo Vadis has always been something close to my heart, even before I became vocations director," explained Father Jorge Torres, Diocese of Orlando vocations director. "It's a way to help our young people to take some time away and listen to God, to hear from God about their calling. The men who come are very committed to finding out where the Lord is leading them. They want to make the right decisions. They are inspiring."
The retreat combines a focus on prayer and discernment with opportunities for sports and relaxation. Attendees hear talks from current seminarians and priests, participate in the celebration of daily Mass, pray the liturgy of the hours, and have time for the Sacrament of Reconciliation, adoration of the Blessed Sacrament, and personal reflection. They also play soccer and board games, watch movies, and have the chance to get to know other people exploring God's call in their lives.
Reese, an incoming senior from St. Patrick Parish in Mount Dora said that he has enjoyed making like-minded friends and has benefitted from learning new ways to meet God in prayer.
"It is definitely unusual to be discerning the priesthood among my friends from home. I go to a public school and there are not really a whole lot of practicing Catholics. So having a lot of Catholics around really helps me a lot.
"The highlight of the retreat has been the morning prayer and evening prayer because I've tried to do it by myself before but really didn't know how. I feel like I've gotten a lot more practical answers about priesthood and also how to continue discerning after this."
The Quo Vadis retreat is just one part of the discernment process. Once they return home and return to school, it provides the men with the tools to continue seeking God and encourages them to keep asking the question, "Where am I going?"
Bishop John Noonan joined the teens for Mass on the morning of August 4, the feast of St. John Vianney, patron saint of priests and spent time answering questions on the life of a bishop and priest, prayer, and ongoing formation. He said while it is difficult to attend seminary while in high school, the young men can create their own seminary-like experience.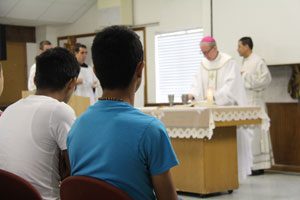 "Find a priest to work with you. Work with a good youth group, a group of people you can pray with and who can help you as you go through high school. See how you can make your life more reflective of what you want to become. Participate in the Mass, go to Reconciliation, help the poor, get involved in your parish, be a lector, and be involved in different groups.
"When we follow Christ like St. John Vianney, we too can become instruments; we can become priests of God who bring the presence of Christ into the lives of others," add Bishop Noonan.