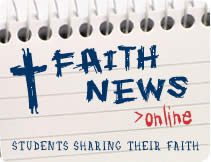 Avery, an eighth grader at Sacred Heart Catholic School loves to write. She considers it a hobby. So when she had the chance to be an Ace Reporter for her school during the 2013-2014 academic year, she jumped at the opportunity.
"I have been writing since I was little," Avery said. "I really wanted to grow in the Catholic community as well and put myself out there and try to do something to bring myself closer to God. I felt this really did that for me."
Ace Reporters report for Faith News Online, a special section of the Diocese of Orlando Web site that features articles written by and about local Catholic youth. These articles and photos describe the people, places and events that are having an impact on the faith and education of our young people. In addition to having their articles published on the website, the parish also published the articles in their Sunday bulletin.
On May 1, the Bishop John Noonan recognized Sacred Heart Catholic School's Ace Reporter team – Delaney, Matthew, Luke, Avery and Claire – for their exemplary work, presenting the students with a Light of Faith Award.
"This honor meant so much to Sacred Heart and the students," said Maria Bilodeau, religion teacher who led the team. "My initial objective was to have them write about what was happening around our school and to give our school the opportunity to be known.
"When we received the Light of Faith Award, the students realized that they can really share their faith and the mission as a school through their writing skills," she continued. "It became a gift of love and faithfulness for the church and the school."
Sixth grader Luke said he initially wanted to be an Ace Reporter so that he could write about "how great our school activities are and to let people know that we are an amazing foundation." As the year progressed, he said not only did his interviewing and writing skills improve, but so did the knowledge of his faith.
Eighth grader Delaney agreed, saying, "I think all of us have blossomed in our faith. Being able to meet Bishop Noonan was really neat for all of us. Getting to interview our pastor and get one-on-one time with him and talk to him about different events was neat too. We got to see that Christ is there for others."
Principal Leigh Svajko said she was pleased to know that Sacred Heart students were touching the lives of others.
"It was wonderful to read about the many ways our school brought the Light of Christ to others through the school year," she said. "​​ We knew that our Ace reporters were doing an outstanding job, and when they won (the Light of Faith Award), it was exciting to realize that others outside of the Sacred Heart community also appreciated their articles."
"Our Ace Reporters come from a very small school and I believe that we have taught them that no matter who we are, we can reach out and make a difference in our own little way," Bilodeau said. "While we are proud of this award, we keep our humility. It is not about us, it is about others and most of all it is about God. We hope whoever reads our Ace Reporter articles understand that we do this for the glory of God."