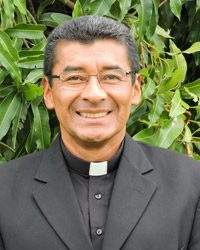 Ordination of Luis Salazar and Martin Nguyen
as Transitional Deacons
Saturday, April 18, 2015
St. Joan of Arc Parish in Boca Raton at 11:00 a.m.
About Luis Salazar
Looking back on his life, Luis Salazar, a native of Colombia, said he has always had a calling to serve God's people; however, it wasn't until he moved to the United States 13 years ago, that his relationship with the Lord deepened and he heeded that call, entering the seminary at the age of 45.
"I worked as a banker in my home country," Salazar said. "Interestingly, the thing that I most liked about that work was working with people, helping them. Even though I was working in a bank, I wasn't interested in their economic needs. I was interested in their personal and family needs."
Salazar will take another step toward realizing his dream of becoming a priest. He is among 13 seminarians from St. Vincent de Paul Regional Seminary in Boynton Beach–including fellow Diocese of Orlando seminarian Martin Nguyen—who will promise obedience, celibacy and a life of prayer, giving their lives to God and his people.
Deacon Salazar said his journey to the priesthood has been a true blessing as he has grown even closer to God and has been inspired by his people.
"During the next year, I look forward to learning more about my role in ordained ministry," he added. "I am looking forward to learning more about the people of God, their needs, and journeying with them. I am excited and nervous at the same time. I am ready."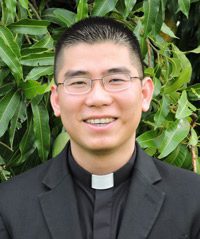 About Martin Nguyen
Martin Nguyen admits that he had a lot of idealistic notions about the priesthood when he entered the seminary at the age of 17. At the time, the Dr. Philips High School graduate and native of Vietnam was more interested in what a priest did. Over the years, as he continued to explore the calling he received, his understanding of the priesthood matured along the way.
"I see my journey as the building of a relationship," Nguyen said. "Being in the seminary all of these years, I see my time as building a friendship with the Lord, that has deepened and has become stronger over the years. After eight years of formation, I have experienced an incredible change. I recognize in myself a lot of growth, and for that I am very grateful," he continued.
"Every day, I became more dedicated and a better friend of the Lord. Out of that love and commitment to him, I am willing to give my life to this vocation," he added.
He said while he has faced many challenges in his journey to the priesthood, there have been many more blessings. Among the highlights for the 25-year-old was his pastoral year assignment spent last year at St. John Vianney Parish in Orlando.
"Being able to teach in the school and interact with my students, being with the people at the parish, sharing their moments of joy and their sorrows and difficulties as well, those moments are the highlights of my journey. I am very grateful for them," Nguyen said. "They give me the strength, the courage and motivation to continue to respond 'yes' to my calling from the Lord."