This year, the Diocese of Orlando recognizes two religious sisters who are celebrating 60 years as consecrated religious. We honor them for their ministry of love and dedication to serving others for the greater glory of God.
Sister of St. Joseph Josephine Marie Melican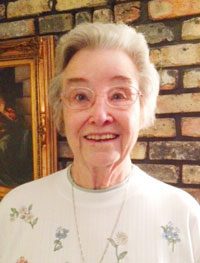 Sister Josephine is a self-proclaimed "Navy brat." Born in San Diego, her family frequently moved throughout the United States before settling in Jacksonville in 1950. It was during her early years in Florida that she felt God's calling to religious life.
"I became acquainted with the Sisters of St. Joseph while in high school," Sister Melican said. "There was something there that I admired, I liked and I wanted. I started to think about a religious life during my freshman year and the calls kept getting stronger as the years went by. By the time I graduated from high school, I was certain that was what I wanted, and I entered the convent."
Sister Melican also felt a strong calling to teach. In 1956, she began teaching at elementary and high schools throughout the state. Almost 20 years into her ministry, she was called to serve in geriatrics. Sister Melican earned a master's degree in gerontology from Columbia University in New York in 1971, and began a new phase in her ministry, serving as the administrator at All Saints Nursing Home in Jacksonville for 10 years. She also ministered at other facilities in the years that followed.
"I love teaching but I also love taking care of the frail, the ill and the elderly. It is really such a reward to have people respond who may not usually respond," she said. "It is such a joy to see how they respond as I am bringing Christ into their lives."
In 1995, Sister Melican began caring for her elderly sisters at Our Lady of Lourdes Convent in St. Augustine. Today, Sister Melican is serving as a minister to the sick at St. Margaret Mary Catholic Church in Winter Park.
Adrian Dominican Sister Clarice Moyle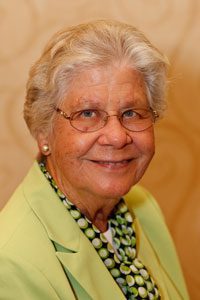 Sister Moyle is a native Floridian. Born and raised in Jacksonville, she first learned of the consecrated life as a student in Catholic school. Her teachers were the Sisters of St. Joseph. They taught her reading and writing and more importantly about taught her about the love of God.
While studying at Barry University, Sister Moyle met the Dominican Sisters of Adrian, Mich. and heard God's call to serve in a religious vocation. She entered the convent and earned her bachelor's degree in education.
While preparing for her new vocation, Sister Moyle was asked to teach 63 Spanish-speaking kindergartners. This challenging assignment laid the groundwork for a lifelong ministry in education. Sister Moyle said teaching God's children is the greatest vocation in the Church.
"If you can teach a child to read and write and to search for knowledge, then they can do anything," she said.
Sister Moyle ultimately earned her master's degree in education from Barry University. Throughout the years, she served in a multitude of educational roles – teacher, department chairperson, assistant principal and principal – in Florida, Michigan and Puerto Rico. In the Diocese of Orlando, Sister Moyle taught at Bishop Moore Catholic High School, Orlando, and St. Mary Magdalen Catholic School, Altamonte Springs. She retired from teaching in 2007.
Today, Sister Moyle volunteers at St. Mary Magdalen Catholic School and is part of the bereavement ministry at Annunciation Catholic Church, Altamonte Springs.