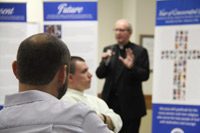 Greg Gullikson of Holy Spirit Parish in Mims admits that there was a time when praying for vocations meant "praying for those faceless individuals out there somewhere who might become priest." However, after attending the Diocese of Orlando's Vocations Services Workshop and undertaking the formation of a vocations committee within his parish last year, his prayer life for vocations has become personal.
"I wasn't looking intimately at the people around me, the families around me, the kids around me," he said. "Being at the vocations workshop last year and hearing some of the perspectives really changed my own way of looking at things."
"When we were forming our vocations committee at Holy Spirit, Father Andrew (Wojtan, pastor) wanted people to know that praying for vocations was to be personal," Gullikson added.
Gullikson was one of the speakers, sharing best practices of promoting a culture of vocations, at the diocese's 7th Annual Parish Vocations Services Workshop, held April 11 at St. Margaret Mary Parish. Nearly 100 people, including priests, religious men and women, parish leaders and a group of young men discerning the call to the priesthood, attended the daylong event.
In addition to examples of best practices within parishes, the workshop featured an opening Mass celebrated by Bishop John Noonan; keynote addresses on living a consecrated life, presented by Missionary Sisters of the Incarnation Consecration Mission Maria Nguyen of St. Philip Phan Van Minh Parish in Orlando and Third Order Franciscan Father Giles Schinelli, pastoral minister of the San Pedro Spiritual Development Center in Winter Park; and small group discussions.
Father Jorge Torres, director of the Office of Vocations said vocation committees play an important role in promoting vocations in our diocese.
"They keep vocations on the parish radar," Father Torres said. "The Vocations Services Workshop helps us to remember that vocations are everybody's business."
Fifty-six parishes have a vocation committee.
One of the first initiatives of Holy Spirit's vocations committee was the introduction of an Elijah Cup. Every week, one of the 300 families of the parish will take one of two circulating cups and prayer books home. Families are to put the cup in a place of reverence and spend time each day in prayer for vocations. Gullikson said the cup has been well-received and sign up to host the cup is booked out for three months.
"There is a lot of energy," Gullikson said. "There is definitely a new buzz around the parish since we started it."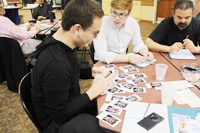 St. Ann Parish in Haines City has also noted equal success with its new vocations committee. Javier Garcia said since introducing the Pilgrim Traveling Chalice in December 2014, they have received donations to purchase four more chalices to be circulated among the families.
When a family does not have the chalice in their home, they are still encouraged to pray for vocations. Weekly notices in the bulletin, such as — "Did you know that just because a young man goes to the seminary doesn't automatically mean he will become a priest? These young men are discerning whether they are indeed called into that particular kind of service to our Lord. They would appreciate your prayer" – serve as a reminder.
Another highlight of the event was the personal witnesses of Sister Nguyen and Father Schinelli and their journeys to religious life. As the faithful continue to celebrate the Year of Consecrated Life (Nov. 30, 2014-Feb. 2, 2016), Fr. Schinelli reminded the group how the charisms of the nearly 100 religious communities represented in Central Florida enhance and enrich the diocese.
"If every person in this room represented a different religious community and each community has a special quality of giftedness," he said, "if you put that all together, you have a marvelous tapestry of what the Church is all about."
Father Schinelli also noted that we are called to our own vocation.
"Every vocation begins with a desire to know and to love Jesus," he said. "The words of St. Augustine come to mind when he says, 'Our souls are restless Lord until they rest in you.' What is so important to understand is that knowing and loving Jesus leads you into this mystery of trying to understand what it means to be holy. Through our baptisms, every one of us is called to be holy."
Editor's Note:
World Day of Prayer for Vocations will be observed on Sunday, April 26. This year marks the 52nd Anniversary of the World Day of Prayer for Vocations. Also known as "Good Shepherd Sunday," the purpose of this day is to publically fulfill the Lord's instruction to, "Pray the Lord of the harvest to send laborers into his harvest" (Mt 9:38; Lk 10:2). Please pray that young men and women hear and respond generously to the Lord's call to the priesthood, diaconate, religious life, societies of apostolic life or secular institutes. Source: USCCB.