Upcoming Webinars: Check out these informative and free events!
THE JOY OF THE GOSPEL WEBINARS
Everyone is talking about it – Pope Francis' church-shaking encyclical on the New Evangelization.
Join us for a reflective reading and discussion on the major themes of the Pope's Encyclical. This will happen over two webinars.
These will be most helpful for pastors and priests, pastoral associates and catechists, evangelization team members, members of pastoral and financial councils-all in parish leadership and service.
The Pope has so many important directions for all of us-laity and clergy-in terms of living and sharing the Good News. Even if you've already read The Joy of the Gospel, join in on the reflections and discussion.
Part 2 – October 16th at 3:00pm EST
Part 1 – Aired – September 30th at 3:00pm EST
What Living the Eucharist Can Do for Your Parish
Presented by Father Frank DeSiano, CSP, and Father Kenneth Boyack, CSP.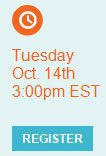 Living the Eucharist is one of the fastest-growing, most effective, parish-based Lenten programs available. Thousands of parishioners in more than 750 parishes in 70 dioceses in 40 states have participated in Living the Eucharist's adult, teen, and family faith-sharing groups, parish activities, and retreats. Parishioners love this program!
This webinar will show you how your parish can benefit from Living the Eucharist.