Nearly 150 people, including deacons and their wives, gathered at the San Pedro Spiritual and Development Center to learn more about what they can do to help curb the growing problem of human trafficking in Central Florida. The Diocese of Orlando Office of the Permanent Diaconate presented the "Human Trafficking Awareness Training" workshop on Oct. 18 and 25.
The event featured an array of speakers from local law enforcement agencies and representative of the Florida Abolitionists, a non-governmental organization located in Orlando that was established to campaign against modern-day slavery. The presenters spoke on such topics as what is human trafficking, victim services, online safety, and prayer. The Oct. 25 event offered presentations in English and Spanish.
Speaker Nick Canuso, director of the National Weekend to End Slavery and Trafficking for the Florida Abolitionists, said human trafficking is the fastest growing criminal enterprise in the world, and the second largest criminal enterprise, just below narcotics. While most equate human trafficking with the sex industry, it can also include forced labor and the extraction of organs and other tissues.
The state of Florida ranks third, behind Texas and California, in the country for trafficking allegations, he added.
"Human trafficking is about the failure of humans to relate authentically with one another," Canuso said. "We cannot connect with one another on an authentic level if we do not discuss the topics of human dignity, identity, and purpose of destiny. Human trafficking encompasses all aspects of injustice – corruption, greed, dismissing the value of life."
Deacon David Gray, director of the Diocese of Orlando Office of the Permanent Diaconate, said the purpose of the workshop was to bring the deacons and others together to address Pope Francis' call to work together to end human trafficking.
"The Pope has called us to be advocates for transformation," Deacon Gray said. "He is saying we need to address this issue, and it is a huge issue. He wants us to form ourselves to understand that it exists and to form ourselves in how can we transform and change things. We are called to be evangelists. We are called to be the agents of transformation."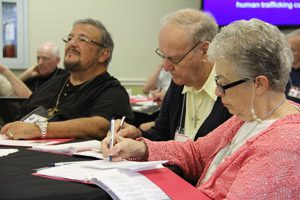 Civilians are not being asked to rescue victims because that's dangerous work suited for trained individuals. However, the community at large is asked to support law enforcement agencies and task forces in their work, report suspicious activities, and raise awareness about the crisis, all the while recognizing the dignity of all involved.
"Every person has human dignity," Deacon Gray said. "Our challenge is that we will say that the trafficked have dignity, but as for the traffickers and those in demand of the services, we say we should throw them in jail and throw away the key. Where does that put us? We have lost the dignity again.
"We need to ask why are those people involved in trafficking? Why are they taking advantage of the service? We need to address that issue because it is not just trafficking. It is an issue of faith. That is hard to get your arms around."
"This is an issue we need to bring forth to the communities," Deacon Gray added. "We have been called to be that voice to our communities."
Editor's Note:
If you suspect human trafficking, do not take the law into your own hands. Instead, call 911 or any of these numbers:
Florida Abuse Hotline – 1-800-96-ABUSE (22873)
Crime Line – 407-423-TIPS (8477)
National Human Trafficking Resource Center – 1-888-3737
Warning Signs of Human Trafficking
Signs of physical abuse
Deprived of food, water, sleep or medical care
Communication is restricted
A large number of occupants in one residence
Rarely seen outside the residence
Not allowed to socialize
Always accompanied when outside the residence
Outside locks on doors and windows
Lack of passport, immigration or identification documentation
For more information visit,
www.usccb.org/about/anti-trafficking-program/
www.flaccb.org/socialconcerns/humantrafficking/index.php
www.orlandodiocese.org/solidarity