On a given day, religious priests, brothers and sisters in the Diocese of Orlando can be found ministering to local law enforcement officers, feeding the homeless in soup kitchens, advocating for the rights of immigrants, teaching in schools, and leading retreats. With over fifty religious orders present in the diocese, the ministries and gifts offered daily by the over 130 religious men and women are many and diverse. It is this special call from God, and the people who have responded to it, that will be celebrated during the Year of Consecrated Life.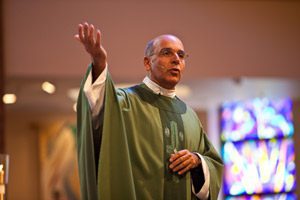 Proclaimed by Pope Francis, the Year of Consecrated Life began on November 30, the first Sunday of Advent, and will end on February 2, 2016, the World Day of Consecrated Life. The year also marks the 50th anniversary of Perfectae Caritatis, a decree on religious life, and Lumen Gentium, the Second Vatican Council's Constitution on the Church. The Year has three objectives: to remember the past with gratitude, to embrace the future with hope, and to live in the present with passion. It is an opportunity to highlight the many types of religious vocations within the Church and a chance to evangelize and spread the joy that comes with a life given fully to Christ.
"My hope for this year is that our lifestyle will become more visible to others and that there will be a deeper understanding of how consecrated life is lived in the 21st century," says Adrian Dominican Sister Rosemary Finnegan, O.P., moderator for women religious for the Diocese of Orlando. "There are so many stereotypes shown in stories and movies about religious that leave a wrong impression and don't do justice to the richness of this life."
Third Order Regular of St. Francis Father Robert D'Aversa (pictured left) is the vicar for religious for the Diocese of Orlando. He also looks forward to the opportunity to celebrate and bring to light the blessing of the consecrated life.
"People need to know that religious life is a viable option today. Although we are fewer in number there is still an exemplary vitality. This year will help us move forward with a level of enthusiasm. We need to invite more people to consider a vocation to consecrated religious life."
Planned Events
That is also the goal of events planned during the Year of Consecrated Life by the United States Conference of Catholic Bishops. Activities will showcase the richness of consecrated life by inviting families to experience the life first hand through: public open houses at religious communities on February 8, 2015; a day of service, joining religious men and women in their various ministries during the summer of 2015; and a day of prayer with religious communities on September 13, 2015. All of these events will serve to show the diverse ways that consecrated men and women serve the Church and the world.
This gift of religious life will be honored in a special way during the Mass for World Day of Consecrated Life, celebrated by Bishop Noonan on January 31, 2015 at the Basilica of the National Shrine of Mary Queen of the Universe beginning at 11:00 a.m. All are invited to participate in the celebration of Mass and to pay tribute to the religious order men and women of the Diocese of Orlando who selflessly offer the charism of their ministry.
"I celebrate with those who have chosen a consecrated life, religious women, priests and brothers, who are true examples of doing everything for the glory of God," said Bishop Noonan. "They nurture us in our faith and I am grateful for their service in the Diocese of Orlando."
A Variety of Gifts
"Each community has a unique spirituality that strives to live the paschal mystery. The works of mercy are the substance of rendered services," explains Fr. D'Aversa. "These days sisters work in all kinds of ministries. Some are chaplains and counselors. Brothers too are everything from chefs to artists. Our diocese is blessed with a variety of different communities. By and large what they share is a sense of teamwork; of the necessity of collaboration in mission…there is a sense of a call to work together on behalf of the Kingdom."
"The question we religious women and men ask ourselves continually and consciously is, "Where would Christ go today?" remarks Sr. Finnegan (pictured right). "Among the many difficult situations in our world, we see so many immigrants in desperate need, farmworkers facing ongoing justice issues, and our beautiful earth yearning to be healed, appreciated and honored. After reflection and with great intention on that question, we direct our energy and our actions in those directions."
She went on to explain that while religious communities serve in a variety of ministries and each with its own founding charism or gift that directs its mission and values, there is much they all share in common.
"Religious life has always been a gift to the Church and to the world. We make public vows according to Canon Law, give public witness by our prayer, life in community, and prophetic role in ministerial works. Religious are on the margins of society, reading the signs of the times, reflecting on the Gospel imperatives, and stretching ourselves to respond to the groaning that we hear in our world and from our earth today. The challenges that religious face with fewer numbers and aging members call us all to new forms of collaboration, openness and critical thinking. We are consciously shaping our vision for the future with creativity and hope."
For more information on local celebrations and resources on the Year of Consecrated Life, visit: www.orlandodiocese.org/ministries-offices/consecrated-life