Bishop to Young People: 'bring peace, hope and joy to the world'
More than 750 youth, representing 23 youth groups from throughout the Diocese of Orlando, gathered at Bishop Moore Catholic High School on Saturday, Nov. 1, for the 2014 Diocesan Youth Life Rally, hosted by the diocesan Office of Advocacy and Justice.
Because the event was held on All Saints Day, this year's theme – "Who's your hero?" – served as a call to holiness and sainthood and beckoned the youth to live their lives with Christ as their role model and hero.
"The 2014 Diocesan Youth Life Rally was an opportunity for young people from 23 parishes around the diocese to see how holiness is something that is achievable in every one of us," said Deborah Shearer, director of the Office of Advocacy and Justice. "The saints were ordinary people who persevered, were faithful and never lost sight of their need to be close to God. We all can identify and recognize the deep need for meaning and for purpose beyond our selves and this kind of event reminds our young people to stay true to this reality, always living in hope."
The teens had the opportunity to visit a host of exhibitors, including Catholic Charities, the JMJ Life Center, CRS Fair Trade, Vocations and more, where they learned about each group's patron saint. The energy was high and the youth were excited to share their love of God when renowned singer, songwriter, storyteller and youth ministry leader, Steve Angrisano, hit the stage to lead the teens in song and prayer.
This year's workshops centered on the lives of two pillars of faith– Blessed Pier Giorgio Frassatti and St. Josephine Bakhita. Both served as examples of a life lived for Jesus.
Frassatti was known for his interest in Catholic social teaching, especially in regard to the death penalty and other acts of violence, while Bakhita, the patroness of the Church on Human Trafficking, showed how one simple and humble person can make a profound impact on her community and world, as she lived her life for Christ while enduring the horrors of slavery. Following the workshop on Bakhita, the teens watched a thought-provoking video on modern-day human trafficking.
Christine Hinton, Youth Ministry coordinator at St. Ann Parish in DeBary, said that she was pleased with the message that the Youth Life Rally brought to young people.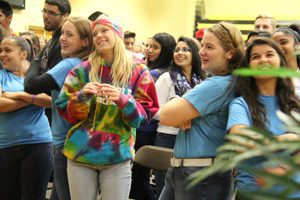 "I think it is important that the students realize that we are all part of a larger family in the Body of Christ and Church," she said. "The call to respect life at all stages is so vital to our Catholic tradition.
"It is paramount that they learn the Catholic social teachings in an engaging atmosphere," she added. "It has always been wonderful in bringing an understanding of where we are coming from as Catholics in living everyday life."
Seventeen-year-old Morgan of Holy Cross Parish in Orlando agrees.
"I came today because after experiencing it when I was preparing for my Confirmation," she said. "I realized how important my faith is to me and I wanted to be able come here with the Confirmandis today and help them on their spiritual journey and to have the same experience I had and get closer to God. This has been amazing. Everything they are saying has really spoken to me. It has been eye-opening."
The evening culminated with the celebration of Mass with Bishop John Noonan, who encouraged the teens to seek God in their lives.
"These people behind me," he said, referring to the banners with the faces of saints on them, "it wasn't until they truly encountered God and knew who Christ was in their lives that the Holy Spirit gave them the strength to do what they had to do. So I pray for you tonight that you too will be open to that encounter with God, believe in that encounter, and above all trust in that encounter. If you are willing to let Him in, then He will do wonderful things for you. Let God in so that you can do great things, you can bring peace, hope and joy to the world."