The Servants of the Pierced Hearts of Jesus and Mary celebrate their 25th anniversary on August 15, the Assumption of the Blessed Virgin Mary at St. Mary Cathedral in Miami. A Holy Mass will be celebrated in thanksgiving to the Lord for the gift of giving life through His Mother, to this new charism of Religious Life and for the many ways the Blessed Mother and the Church have confirmed their charism and Institute.
At a time when other orders are aging, the average age of the Servants is 27.
Mother Adela Galindo, founder of the order, views the anniversary with a blend of thanks and surprise that so much has happened so fast. "I'm extremely grateful for what the Lord has done," she says. "We could never do it by ourselves. But the Lord blesses when you respond. Like Our Lady said, 'Let it be done.'"
A Marian Approach
The servants work intimately with schools and dioceses — teaching, leading, praying, counseling, all in a motherly sense of providing for the Church.
"We ask: How would Our Lady do something?" said Sister Ana Margarita Lanzas, the order's vicar general. "How would she speak or think, or do a ministry? She would do it with kindness. She would be loving and motherly."
On August 15, 2012, three sisters of the Servants of the Pierced Hearts of Jesus and Mary arrived in the Diocese of Orlando to serve at Annunciation Parish, Altamonte Springs at the request of pastor, Father Stephen Parkes.
Sister Maria Acosta is the pastoral assistant, assisting the priests and laity of the parish in various pastoral outreach areas, such as Ministry to the Sick. Sister Christine Hernandez works with parish ministries, offering spiritual support and guidance as the parish's ministry support assistant, while Sister Rachel Gosda provides support to the music department of Annunciation Catholic Academy and also coordinates the Baptism Preparation program for the parish.
"The Servants of the Pierced Hearts of Jesus and Mary are an incredible blessing to our parish community. They provide invaluable spiritual and ministerial support to the priests and laity through the gift of their charisms and their witness as true disciples following the example of the Blessed Mother. I especially hope that their presence on our Annunciation campus inspires our young ladies and girls to consider a call to Consecrated Life," said Father Parkes.
The sisters have convents in Miami (Mother House, Novitiate), Peoria, Ill, Orlando and Rome. They also have various missions ongoing in Central and South America.
They serve in all areas of the life of the Church, having a multiform apostolic mission of evangelization and formation. They are actives as directors of catechesis, teachers of religious education in schools and formation courses, speakers at conferences, organizers of congresses, retreats, and Eucharistic cenacles. They serve on diocesan commissions and always promote the dignity of the human person. All their Marian apostolic activity is born from a deep Eucharistic centered life and from a formation deeply rooted in the Magisterium of the Church, with a particular mission to keep alive and transmit the legacy of Saint John Paul II.
The Servants also have lay associates in 6 U.S. states and more than 14 countries. Rather than vows, they make various "commitments," such as daily prayer and Mass as often as possible. They also minister in their local parishes and movements.
In the Beginning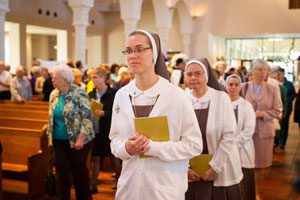 It was in the Dominican Republic, on a mission along with a youth group from Immaculate Conception Church in Hialeah, that Mother Adela first sensed her call, she said. At the Shrine of Our Lady of Schoenstatt near Santo Domingo, she heard a divine request in 1985: "Let me pierce your heart so others may have life."
Only gradually did she grasp the meaning. "For me, it meant a vocation of self-donation and love, so that others may have life. He needed my yes for something that would give life to others."
It clicked into place, and she made a private vow to God. Back in Miami a few weeks later, two other young women made their own vows as well.
Shortly thereafter, she met Sister Ana, who had been searching for an order to join. The two talked for three or four hours. Then she started to leave, and Mother Adela said, 'Where are you going? Stay, we have a prayer group tonight." From then on, Sister Ana was her "shadow," she said.
The group moved in together and evolved rules and a schedule: prayer times, Mass, work, dinner and studying together. Their conservative dress and frugal ways began to attract notice, including from the Archdiocese of Miami.
Finally, Mother Adela had a meeting with then Archbishop Edward McCarthy, who approved formation of a new religious order. In 2000 his successor, Archbishop Favalora, declared the Servants a Religious Institute of Diocesan Right.
Rigorous entry process
But the Servants don't make it easy to enter; their extended formation process can take six years. Nine women are at various stages, even a pre-postulancy. Still others are in a discernment period, learning about the religious life and how to listen to God. It can be a long road, but the retention rate is 95 percent, Sister Ana said.
Embrace of modern communications is one mark of the Servants. They use TV and run their own websites, including piercedhearts.org, with an aggregated list of church news and documents. They run web-based radio called Cor Ecclesiae. And they make CDs and DVDs of all their talks, plus online archives.
Growing pains
As a young order, the Servants are still experiencing growing pains. Mother Adela has visited more than 20 countries thus far this year, and the sisters have been invited into 20 other dioceses. It all brings a variety of challenges: social, cultural, economic, even linguistic.
"When you start someplace, you learn a new culture and work with people you've never known," she said. "It's another world into which we go and accept responsibility."
But even the travel presents opportunities to minister, she noted. Other passengers often offer comments like, "Thank you for what you do," even if they don't know the order.
"Giving your life for service, I think, strikes a lot of people," Mother Adela said.
Yet one question remains a mystery: How have the Servants grown and thrived when others have not? In the period from 2000 to 2014, according to the Center for Applied Research in the Apostolate, members of religious orders of women in the United States dwindled from 79,814 to 49,883. How are the Servants different?
Mother Adela says she doesn't think about that. "I just think about being faithful to what the Lord has asked me," she said.