Couple's example shows it's never too late for marriage
PALM BAY | "Little one" is a term of endearment for Grace Boehm. At 5 feet, the 95-year-old stood confident in front of the altar, with her hair pulled back, perfect makeup and a big smile.
It's no wonder Malcolm, Mickey as his friends call him, fell in love with her. Both have a zeal for life and God.
For the record, Mickey Leighton is 86. As he stood next to her, one could hear him frequently whisper, "I love you," as he embraced her tenderly.
Grace and Mickey's love story began two years ago when his friends mentioned there was a lady who also liked dancing and volunteered at a nearby VFW Post. So, the retired master sergeant of the U.S. Army's Screaming Eagles went to meet her.
After one dance, he was smitten. The friendship that began on the dance floor flourished. Soon they went everywhere together, often on his 2019 Harley Davidson. Eight months in, he asked her to marry him.
"I'll think about it," she said.
Both gave a hearty laugh recalling it.
"Would you believe I had to ask her four times before I got an answer?" Mickey added.
Grace lost her husband of 71 years only six years ago. It was a wonderful marriage, and she wasn't sure she wanted to marry again.
And the fact that he was "a wee bit younger," as she put it, was also a concern for her. Mickey was also widowed, twice. He thought her issues with the age difference were foolish and became angry when she suggested he find someone younger.
"I fell in love with you," he told her. "I want you. I don't want a younger woman."
One Friday evening as they left the VFW, he asked about weekend plans, and she told him she was going to church. "My eyes opened up a little bit, I'm sure," said Mickey. "I didn't know she was a full faith Catholic." Still, he asked if he could join her. She told him to meet in row "G", "for God and Grace".
"When Grace extended her hand of friendship and said, 'Don't be late,' and then I got to church (Our Lady of Grace in Palm Bay), a feeling came over me and I prayed to the Lord," he said. Mickey tried to describe the experience. "In some cases, when you go to church, the troubles you think you have are erased. They're gone. It lightens you. It gives me a great feeling of relief."
Although a Presbyterian, Mickey's mother was Catholic – making him familiar with the prayers, Stations of the Cross, and other Catholic traditions, so he felt comfortable participating in the liturgy. He went home deep in thought. The next time he met Grace at church, he asked what he needed to do to become Catholic. Finding pastor Father Vilaire Philius after Mass, Mickey set out to join the Rite of Catholic Initiation of Adults designating Grace as his godmother. For her part, Grace kept him on his toes making sure he stayed on task. "It made me happy that Mickey became Catholic so he could share the things I've done," she said. They both especially love that he can share in receiving Holy Communion and in bringing forth the gifts. "For us it's a great honor," said Grace.
"It was special, very beautiful the inspiration she gave him; the strength she gave him to bring him to the Church," Father Philius said. "It's like she's a magnet of faith. The way I look at her is a faith-filled person who transforms and inspires someone to become part of the Church."
Over the next few months, Mickey asked Grace for her hand in marriage again and again. "Finally, we had dinner at the VFW and sat with three or four ladies talking to the little one," he recalled. "Someone said, 'When are you getting married?' and Miss Grace said, 'We haven't set a date yet.' I almost fell out of my chair," he said chuckling. Then someone asked, why not? He remembered her turning around to look at him and saying, "How does October sound?'"
"Mickey's a great guy," Grace said. "I talked to the Lord and He said, 'Go ahead', so we did." When they asked their boys for their blessings, Grace's sons, 74 and 71 years old, and Mickey's son who is 61 gave their full support and asked why they were waiting. So, the couple moved up the date and married Aug. 26, 2023.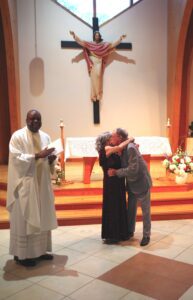 Grace's grandson, a military man, walked her down the aisle and gave her away, while Grace and Mickey's children and their wives helped as ushers. Mickey's biker friends filled an entire section of the church and most of the rest was Mickey's extensive family, many flying down from Ohio.
Recalling the momentous day, Father Philius said, "It's beautiful. The entire church clapped when they heard they were getting married. Sometimes you don't get that —somebody who is 95 and 86 getting married. The guy has been living
his life as a vet and you can see the love he has for her is real. It's a new dimension of life." He said it sends the message, "It's never too late for you."
"I think it's a new way of looking at love; that it's not impossible," Father Philius said. "It's good for the Church to see older people still have the opportunity to give themselves for love."
By Glenda Meekins of the Florida Catholic staff, October 26, 2023