A Time for Growth
The Diocese of Orlando was established in 1968. During its history our Catholic community has grown with new churches, new schools and an expanded Catholic Charities. We minister to God's people leading them to a new experience of holiness and greater knowledge of God. The Diocese of Orlando has 79 parishes, 2 basilicas, 11 missions and 43 schools that serve nearly 400,000 registered Catholics through the administration of the Sacraments, the sharing of the Word of God and through the many and varied diocesan ministries. The ministry of this Diocese touches every city and town in nine counties, encompassing 11,254 square miles.
Led locally by our fifth bishop, Most Reverend John Noonan, the Diocese of Orlando continues to build the Kingdom of God through the efforts of dedicated clergy, lay leaders and countless people who generously share their time, talent and treasure in wonderful abundance with those in need.
The Early Years
There is a long history of Catholicism in Florida that precedes the formation of the Diocese of Orlando. In the 16th century, Spanish explorers searching for untold riches in the new world found the Florida peninsula, which they claimed for Spanish royalty. They worked to form missions and build churches to celebrate and practice their devout Catholic faith.
In 1870, the Diocese of St. Augustine was formed and, for nearly a century, presided over the entire state of Florida.
Joseph Patrick Hurley was Bishop of the Diocese of Saint Augustine, beginning in 1940. He predicted the future of Florida Catholic growth and initiated a comprehensive plan of real estate procurement for parishes.
In 1958, as the population started to increase around Miami, the southern half of Florida became its own Catholic territory, the Diocese of Miami. Ten years later, population numbers justified another split and the central part of Florida became the Diocese of Orlando on June 18, 1968.
Five bishops have guided the Diocese of Orlando during its history, directing the remarkable growth and serving as spiritual leaders to the thousands who flock to the area.
Bishop William Borders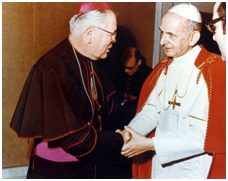 Between 1968 and 1974, Bishop William Borders chartered new ground as he formed the structure necessary to organize a brand new diocese. Parish councils and education boards were created. There was the first ever participation of laity as extraordinary ministers of Holy Communion.
A Sisters' Council was formed to provide support and camaraderie to diocesan nuns. A migrant ministry was launched and a campus ministry program commenced which received national acclaim.
Bishop Thomas Grady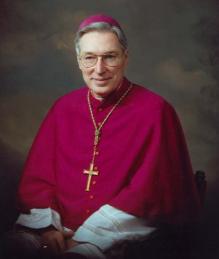 Between 1974 and 1990, Bishop Thomas Grady was shepherd of the diocese during a period of impressive growth. Eighteen new parishes were established and a tourism ministry was born.
In 1975, Bishop Grady recognized the need to minister to the tourist population and named the pastor of Orlando's Holy Family parish, Father Joseph Harte, to become the area's first tourist minister. In 1979 plans were well under way for the place of worship which would be named under the patronage of Mary, Queen of the Universe. On December 8, 1984, the feast of the Immaculate Conception, ground was broken for the first phase of construction. Within two years, the initial facility was completed.
Bishop Grady also oversaw the establishment of San Pedro Spiritual Development Center, a place of prayer and renewal for Catholics. It is a place apart from the noise and demands of daily life and a perfect space for those seeking time to deepen and enhance their relationship with God.
Bishop Grady displayed concern for all people inside and outside the boundaries of our diocese. In 1983, he established a Mission Office to forge a relationship with a sister diocese in the Dominican Republic.
Bishop Norbert Dorsey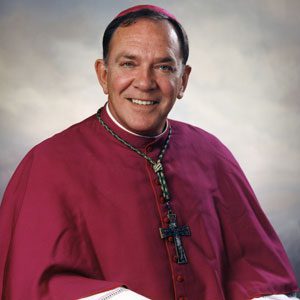 Between 1990 and 2004, Bishop Norbert Dorsey continued to add parishes and schools, as well as expand the ministry to the growing Hispanic community by establishing Spanish radio and health clinics for migrant and farm workers. During his tenure, he presided over a diocese that nearly doubled, growing from 230,000 parishioners to 400,000.
Bishop Dorsey initiated a very special project to provide a safe and caring environment for adults who are intellectually and developmentally disabled.
Bishop Grady Villas residential community sits on eleven acres of Florida's natural habitat nestled in St. Cloud. The project took about 10 years from vision to reality and is named after Bishop Thomas Grady, who authored a prayer and mission statement for the organization, as well as helped with the design of the complex.
To honor the memories of deceased priests and recognizing the sacrifices they make to serve, Bishop Dorsey established a cemetery for priests located at San Pedro Center.
A remarkable event planned under Bishop Dorsey's leadership was a diocesan wide Confirmation held at the Orlando Arena in 1996. Eleven thousand people gathered together for this special celebration of the Sacrament of Confirmation. On this memorable day, Catholics came together from near and far to show their unity and passion for their faith.
In 2001, under Bishop Dorsey's direction, the historic post office on Robinson Street in downtown Orlando was purchased to house the growing Chancery offices. The diocese had previously owned that property and it was the site of Orlando's first Catholic school. The property was sold due to financial necessity during the Depression. The 2001 purchase placed Diocesan offices right next door to St. James Cathedral.
Bishop Thomas Wenski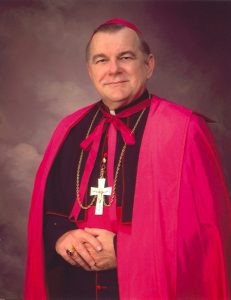 In July 2003, the Holy Father appointed Thomas Wenski as the first Coadjutor Bishop of the Diocese of Orlando. On November 13, 2004, Thomas G. Wenski was appointed bishop of the Diocese of Orlando.
Bishop Wenski was the first Florida-born bishop of the Diocese of Orlando and previously served in the Archdiocese of Miami. He brought to the Diocese a strong record of social justice and spiritual advocacy on behalf of immigrants and the poor.
In 2004, Bishop Wenski convoked the first-ever synod for the Diocese of Orlando. The synod was a coming together of Catholics from throughout Central Florida to discern their most pressing issues. Listening sessions were held with Bishop Wenski so that he could hear from a diverse group of Catholics about their concerns and hopes for the future.
Bishop Wenski designated 2008 as the "Year of Evangelization," putting a greater emphasis on deepening the faith of all people. The highlight of the Year of Evangelization was a celebration event, the "Festival of Faith" held May 8-10.
Bishop John Noonan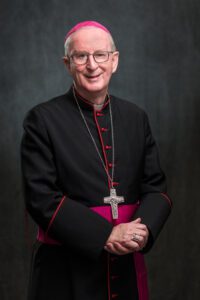 John Noonan was named the fifth bishop of the Diocese of Orlando on October 23, 2010 and installed December 16, 2010 at the Basilica of the National Shrine of Mary, Queen of the Universe. He had previously served as auxiliary bishop of the Archdiocese of Miami.
During his first year, Bishop Noonan visited a number of parishes, missions, schools and entities in an effort to meet Christ's faithful. Additionally, a new Haitian mission, Our Lady of Fatima, was opened under Bishop Noonan's leadership in January 2012. He also met with Pope Benedict XVI in May 2012 during an ad limina visit, which typically occurs every five years.