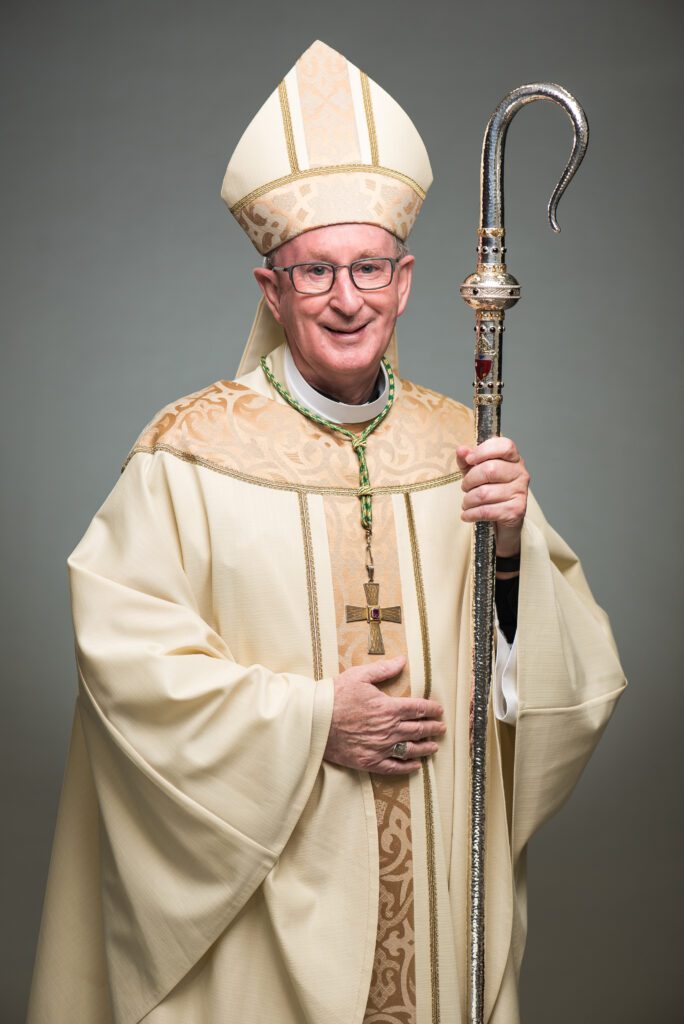 Bishop John Noonan sees his ministry as a priest and bishop as a mandate from God. His Episcopal motto "God before me and God with me" originates in Exodus when Moses was leading the chosen people out of slavery and into the Promised Land. That same prayer was spoken by St. Patrick as he preached the Gospel in Ireland. Like Moses and St. Patrick, Bishop Noonan, fifth bishop of Orlando, is following God's call to serve his people.
Bishop John Noonan was born in Limerick, Ireland, and immigrated to New York at the age of 18 and later relocated to Miami where his calling to the priesthood led him to St. John Vianney College Seminary. After graduation, he attended St. Vincent de Paul Regional Seminary and graduated with a Master of Divinity in 1983. On September 23, 1983, he was ordained to the priesthood for the Archdiocese of Miami, and received his first pastoral assignment as parochial vicar, St. Elizabeth of Hungary Parish, Pompano Beach.
From early in his priesthood, he was seen as a humble servant willing to do whatever needed in service to the Lord. He excelled at leading young people to Christ and became chaplain for Youth Ministry in Broward County between 1985 and 1987. He then assisted young men discerning a vocation to the priesthood as Dean of Men, St. John Vianney College Seminary from 1989 to 1993.
He continued to serve in the area of education forming young people in the faith and leading Catholic schools in the Archdiocese of Miami. He served as supervising principal of Msgr. Edward Pace High School, Miami Gardens, from 1993 to 1994 and supervising principal of St. Brendan High School, Miami, from 1994 to 1996.
Having a keen interest in education, Bishop Noonan pursued additional studies and received a Master of Education from Boston College in 1996. He then assumed a leadership role at the seminary he once attended, serving as Rector/President, St. John Vianney College Seminary between 1996 and 2005. He also assisted priests with encouragement and support as Director of Priestly Life and Ministry between 2001 and 2010.
Pope John Paul II conferred the title of monsignor upon Reverend John Noonan on October 22, 2001. Pope Benedict XVI named him auxiliary bishop of Miami, June 21, 2005 and he was ordained to the episcopacy, August 24, 2005 at the Cathedral of St. Mary, Miami. The Holy Father appointed him bishop of Orlando on October 23, 2010, and his installation ceremony occurred on December 16, 2010, at the Basilica of the National Shrine of Mary, Queen of the Universe.
Bishop Noonan serves as the Episcopal Liaison to Catholic Volunteers in Florida, an organization dedicated to providing people of all faiths the opportunity to volunteer for a year and live out their faith by serving the diverse needs of the people of Florida. Catholic volunteers work towards justice and peace, transforming the community they serve as well as themselves.
In September 2012, Bishop Noonan was appointed to serve on a United States Conference of Catholic Bishops "working group" that followed up on key areas that emerged during the 10-year review of The Application of Ex corde Ecclesiae for the United States. On August 15, 1990, Pope John Paul II issued an apostolic constitution on Catholic higher education titled Ex corde Ecclesiae. The Apostolic Constitution described the identity and mission of Catholic colleges and universities and provided General Norms to help fulfill its vision. In a 2001 document, The Application of Ex Corde Ecclesiae for the United States, the bishops of the United States committed to a 10-year review to provide a reference tool for both bishops and presidents of Catholic Institutes of Higher Learning. The review was conducted in a spirit of ecclesial communion and to yield an appreciation of the positive developments and remaining challenges in collaborative efforts to ensure the implementation of Ex corde Ecclesiae in the United States.
Bishop Noonan has served on the United States Conference of Catholic Bishops' Committee on Clergy, Consecrated Life and Vocations (CCLV) as the liaison to the National Association of College Seminaries (NACS). The Committee assists bishops, both collectively and individually, in promoting, supporting, and educating about the Church's pastoral needs and concerns for the priesthood, diaconate, and consecrated life within culturally diverse communities of the United States; and in addressing issues concerning the life and ministry of bishops. The committee develops foundational documents and appropriate resources that promote the effective ministry of the clerical state, consecrated life, and vocations.
Bishop Noonan also worked with the Catholic Committee of the South (CCS), which is a network of Church leaders, bishops, field workers and grassroots organizers committed to those who struggle to claim respect and human dignity. The mission of CCS is to listen to the cry of struggling peoples, identify the injustice, bring the voice of the Gospel and encourage the faith community to take action. It was founded in 1939 to address land, labor and race issues.
In August of 2016, Bishop Noonan was invited to serve on the Task Force to Promote Peace in our Communities. Archbishop Wilton Gregory of Washington chaired this committee when he was in Atlanta.
Bishop Noonan is fluent in English, Gaelic, and Spanish.