Family's last name has been omitted to protect the privacy of young children.
MELBOURNE | A family of 12 can easily take up more than one pew in church. But when embraced by a faith community, the 12 simply become part of a larger family of God who are happy they have made the journey to the table of the Lord.
That image was reflected April 16, 2022, at Ascension Parish when Father John Maison, pastor, blessed a family with 10 children — nine of whom received Sacraments of Initiation at the Easter Vigil, all of whom have found a new home in the Melbourne community.
The journey started with the mother's commitment to participate in the celebration of Mass with her large family, continued with the support of her husband, and came to fruition thanks to the encouragement and support of the religious education staff. To them, their faith journey is a testament to God's love and glory.
When Jennifer and Jason met, Jennifer had been an active member of the Seventh Day Adventist church and Jason, who was baptized Catholic, had fallen away from the faith. He was a member of the U.S. Air Force and she cared for the children, who now are ages 1 to 18. They had hoped for maybe three children, but were blessed with 10.
In the early years of their marriage, Jennifer converted to Catholicism, and sponsored Jason at his own Confirmation. That year, their three eldest (Lily, Colin, and Abigail) were baptized in St. Joseph Parish in Palm Bay. After the birth of their fourth child, Alexander, they moved to the Ascension community.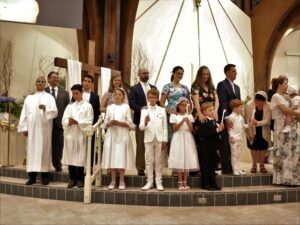 But with more children, a new house and new responsibilities, their faith "was not as high a priority" for Jason. He admitted he was worried about managing all the young children in a church setting. The experience did create a tension between the couple. So, they held off on the Sacraments until they were both committed to a more consistent Church life to set a good example for their children.
In recent years, Jennifer resumed participating in the celebration of Mass. But as the children got older, they began resisting participation.
"The spiritual responsibility was heavy on me, and I just couldn't do it by myself," she said tearfully, adding she didn't want to see them fall away from the Church.
Jennifer, who homeschools the children, made a decision to bring the whole family back for their Sacraments. By then, some of her friends' husbands invited Jason to Ascension's men's group, and he was ready to return the Church.
"I was a little… OK, a lot… apprehensive as to how our younger kids would fare, sitting quietly through the service. However, simply trusting in God that we were doing the right thing and that He would help us turned out to be very rewarding," Jason said. "Whether sitting next to our 5-year-old son who never misses a 'Thanks be to God' or simply watching our older kids set the example for their younger brothers and sisters, it has been a great way to connect and build memories with all of our kids."
Jason said he felt like he was coming home. "Knowing those same values are taking root in our children today is just an amazing feeling."
Despite the COVID-19 pandemic, the family thrived. The oldest, Lily, joined LifeTeen, and her mother noticed how having Catholic friends made an enormous difference. Lily even "persuaded" her younger brother, Colin, to join.
"It's been a great experience. I've never really talked to anyone as much as I have now," Colin said. "I think I've grown a lot closer to God in general. I've studied the Catechism in school and learned a lot about God, but I've never learned the deeper meanings of things."
Worried about the difficulty of bringing all the children up to date on their Sacraments, Jennifer breathed a sigh of relief at the support of the religious education staff — Laura Dodson, Betsy Glasnapp and Cara Giuliano – who guided the family through the process of the Rite of Catholic Initiation of Adults.
"When we first started this journey within a journey, I was very thankful that Jenn took the lead and just went ahead and added all the events and classes to our family calendar," said Jason, who recently retired from the military as a chief master sergeant. "My retirement from the Air Force was only weeks away; I was experiencing, not only the stress that comes with a career change, but really the stress of an identity change after wearing the uniform for 23 years."
Yet he is gratified knowing the "children's memories from their RCIA experience and participating in the Mass will create lasting values and have a positive impact on them for the rest of their lives."
The return has influenced Abigail, who told her mother recently she wants to be an altar server. She gets up at 6 a.m. to do her exercise, and podcast of Bible in a Year. Colin said he appreciates a deeper understanding of the faith.
For Jennifer, there is nothing, but gratitude. "It's been wonderful," she said adding, "Being able to go to Mass with Jason has been really nice." Jason agreed and said he finds a sense of balance and structure within his family that was missing.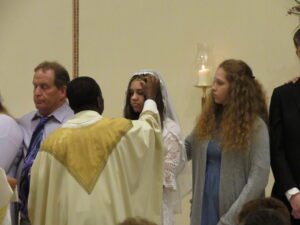 "The experience of Sunday Mass with our children, especially the little ones, has helped me become more trusting in God," he said. "Prior to really coming back to the Church as a family, it seemed like — as a family — we did little more than talk about the liturgical year with the reality being that our lives revolved around the school year. … Now our weekly rhythm really centers on going to Mass and running our kids to Church for a class or other event, all of which actually re-energizes us and helps us perform better in the other aspects of our life."
Finding the Easter Vigil "very humbling", he said from godparents and sponsors to the religious education team and parish clergy, it was a "true community effort for which we will always be very thankful."
"Our children receiving their Sacraments was not so much a reflection of Jenn and I as much as it was a reflection of the amazing efforts of so many at our parish," he said. "So many who gave their own time to prepare our children."
By Glenda Meekins of the Florida Catholic staff, April 20, 2022