WINTER PARK | Michael Crocker knew his Eagle Project would be at Queen of Angels Cemetery the moment they suggested a memorial and offered the site. Wanting to honor veterans, Crocker, with the help of his fellow Boy Scouts from Troop 24 in Orlando, installed the memorial June 14.
"It is a blessing to have this tribute installed in our cemetery. The medallions of each branch of our Armed Forces guarding our National and State Flags speaks to the service of our Veterans who have served and in active service," said David Branson, director of cemeteries.
The flags and plaques for the Army, Navy, Air Force, Marines, and Coast Guard mark the entrance of Queen of Angels Cemetery in an imposing manner.
"The idea for this project really came from the desire to marry my faith with scouting," said Crocker, a St. James Cathedral parishioner. He said the project was two years in the making. As a Catholic cemetery, he said the connection to faith and the memorial made sense.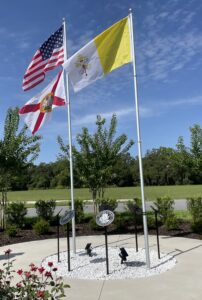 "The fact that people will come to the cemetery and be able to see the flag poles and plaques for years to come is something that means a lot and is perhaps the best aspect of this project. It really puts the importance of the project in perspective," he said, adding he was eager to take on the project because of the what the military and veterans represent. "I hope that those who go and see it appreciate it and that it is an adequate memorial for any family or friends they might have lost that were veterans."
His Scout troop and family members helped install the flag poles and military plaques on the weekend prior to the blessing.
By Glenda Meekins of the Florida Catholic Staff, June 30, 2022