ORLANDO | Shopping at auctions and dancing to the beat, Magnify of Central Florida's 19th Annual Harvest Ball "surpassed all expectations and was an incredible success," said executive director Kevin Johnson. "This year, we reached a new milestone with over 40 sponsored tables, and the generosity and support of our community enabled us to raise over $380,000, with additional donations continuing to come in," he said.
Magnify's mission is to magnify the God-given gifts of people with disabilities to share their unique abilities with their communities by providing opportunities so the fullness of each person served can be realized within their communities.
Johnson extended gratitude to everyone who contributed to the Harvest Ball's success, who volunteered their time, and participated in the gala. He said he especially enjoyed the opportunity to share stories of those who Magnify serves as well as the community partners who were transformed by their gifts. "Your unwavering support and dedication to Magnify has profoundly impacted the lives of those we serve," he said.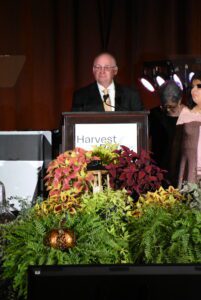 Receiving the Lifetime Legacy Award, Jon Trout was moved to tears. Trout was honored for his exceptional dedication and unparalleled commitment to Magnify's mission, to the success of the Harvest Ball since its inception, and his years of service on the Board of Directors.
If you were unable to contribute during the event, there is still an opportunity to make a difference. Visit the Magnify donation page at https://shorturl.at/sAYZ7.
Staff Report, October 13, 2023