OCALA | Ten Trinity Catholic High School athletes across six sports sign letters of intent for various colleges nationwide. This is the largest signing ceremony Trinity has on record.
Basketball point-guard and wing player, Ashton Lovette, heads to Davis and Elkins College in West Virgina. Lovette is the first in his family to go to college on an athletic scholarship. Jeremiah Russell will attend Polk State College in Winter Haven, which offered the Celtic guard a full ride.
Fellow teammate, Chris Heard, is headed to Santa Fe College in Gainesville. Heard recently received his Sacraments of Initiation and was received into the Catholic Church.
Softball players, Kaylee Oliver and Macie Spohn, will attend Louisburg College in North Carolina and Valdosta State University in Georgia, respectively.
Flag football athlete, Jelunys Serrano, accepted her spot at Warner University in Lake Wales.
Addison Gunn signed to cheer at Stetson University, Deland while volleyball player, Cayleigh Pelletier, is headed to St. Andrews University, North Carolina.
Baseball player, Anthony Corder, signed with Eastern Florida State College in Cocoa and Luke Wilkerson signed with Eastern Kentucky University.
Eight athletes signed earlier, in the Fall and Winter—making a total of 18 athletic signings in one school year.
Six musicians also signed agreements to go to Florida State University (FSU) and the University of Florida (UF). Going to UF for Music Education are Julie Cyrulinski, Jacob Baker, and Bryce Smith. James Williams (UF) will study Music Performance and Biochemistry.
Future Seminoles at FSU include Kate Thornton (Music Education) and Erin Murphy (Music Therapy).
Athlete becomes Catholic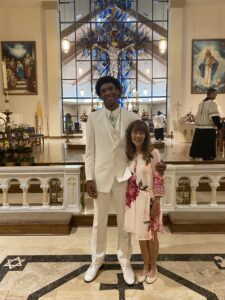 Basketball athlete Chris Heard's first exposure to Catholicism was through the Trinity Catholic community. A non-denominational Christian, he found Mass attracted him "visually and spiritually". New to the school as a senior, a friend invited him to Mass at Queen of Peace Parish early in the school year. He found Father Patrick O'Doherty very welcoming and easy to understand. He thought, "I want to be a part of this," so he shared with Father O'Doherty he would like to become Catholic.
Weekly formation with formation teacher Helen Kennedy led to discussions and clarifications about the faith, led to reception of the Sacraments of Initiation at the Easter Vigil. "I had to be open to something new," he said. That openness extended to his discernment when choosing a college. As he was praying during the Stations of the Cross one day, it occurred to him it was okay to ask for help. He put it in God's hands and is at peace knowing God is in control.