ORLANDO | Two weekends in December mark the installation of four pastors in the Diocese of Orlando. Each pledged their commitment with one hand on the Book of Gospels and signed oaths alongside Bishop John Noonan who finalized the ceremony by giving the new pastors the "keys", "not to the parish, but to the kingdom of heaven."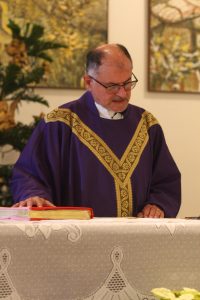 What is the difference for these pastors? Parochial administrators are generally a temporary position while pastors have more responsibilities under canon law and are often appointed for longer term. Both serve in the formation of God's people and the administration of the parish.
On Dec. 10, Father Luis Osorio became pastor of Holy Spirit Parish in Lake Wales. Prior to serving Holy Spirit Parish, Father Osorio served six parishes in North Carolina, and in the Diocese of Orlando at St. Mary Parish, Rockledge and Centro Guadalupano Mission in Wahneta. The Colombian pastor has a particular love for serving multicultural communities. Click here to view photos from Father Osorio's installation.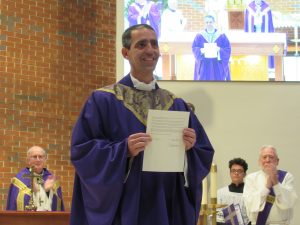 Father Matthew Hawkins' pastoral installation at St. Paul Parish, Leesburg, took place on Gaudete Sunday, Dec. 11. Ordained to the Priesthood in 2018, Father Hawkins served St. James Cathedral as parochial vicar and later as parochial administrator of St. Paul. He said the past 18 months of his assignment in Leesburg have been a time of "tremendous growth in the priesthood and in the caring for souls". Yet, he says, "I feel like the journey of learning how to be a father is just beginning. The beautiful people of St. Paul's will be my teachers, and I couldn't ask for better." Click here to watch the livestream of Father Hawkins' installation.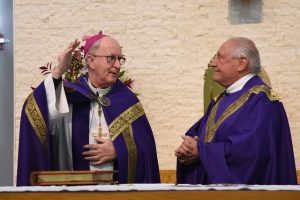 The fourth week of Advent welcomed Father Mark Wajda as pastor of Blessed Sacrament Parish in Clermont, Dec. 17. Father Wajda said the appointment humbled and filled him with gratitude as parishioners desired a pastor for some time. "Being ordained for the Diocese of Orlando was the fulfillment of my long overdue vocation for which I am very grateful; being named pastor is an honor, a little "icing on the cake" as it were," Father Wajda said. "What I really hope for is that I can help shepherd the people of God to heaven, our true home!" He looks forward to a more vibrant parish with a deeper appreciation of the Sacraments, especially the Eucharist. Click here to watch the livestream of Father Wajda's installation.
Father Martin Nguyen, who once was an altar server in his home parish of Holy Family in Orlando, gratefully accepted his appointment as pastor. His spiritual home since arriving from Vietnam in 2006, he said it has been a blessing to return as its shepherd. "The installation is a celebration of the sacred relationship between a pastor and the faithful entrusted to his care," he said. "There is much meaning in each liturgical action that takes place during a pastor's installation. For myself, I see the moment when I am asked to lead my people in the Profession of Faith to be most impactful. It's a reminder of that awe-filled responsibility to strengthen the faith of my brothers and sisters (cf. Lk. 22:32) through not only my preaching, administering the Sacraments, and governing the parish, but, above all else, through my daily examples." Click here to watch the livestream of Father Nguyen's installation.
"We pray with gratitude for these priests whose service to God's holy people brings the Eucharist into our daily living, God with us," Bishop Noonan said.  "I ask you to pray for all of our priests and seminarians that by their growth in faith, they will lead as God ordained them."
By Glenda Meekins of the Florida Catholic staff, December 19, 2022