HAINES CITY | When a parishioner gifted Father Alfonso Cely, pastor of St. Ann Parish, a caterpillar last year, no one expected much to come of it. As the cocoon developed into a chrysalis, eventually releasing new life on the pastor's patio, he was fascinated by its beauty. After a couple of days watching the butterfly delightfully fly around his patio, he set it free and noted, "It was the most beautiful experience I ever had."
Inspired by their beauty, Lily Muñiz, St. Ann operating officer, purchased a small milkweed plant in the hopes of attracting butterflies to her garden. She did not expect to discover caterpillars latched on to the plant a month later—the beginning of a joyful journey for her parish.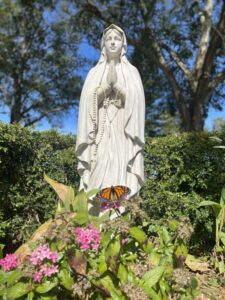 Knowing Father Cely loved butterflies, she brought the caterpillars into the office, and took care to bring milkweed for them daily. She and the staff also began learning how cocoons formed and how to take care of the caterpillars. "We've been raising (Monarch) butterflies ever since," Muñiz said. Each time a butterfly is born, Father Cely and Father Duberney Rodas Grajales name them.
The Monarchs are released by a statue of the Blessed Mother, just outside the office, often flying from their fingertips and settling on or near Our Lady—a reminder of how she gave birth to her son and how He transformed the world.
Most recently, seven of 14 cocoons have hatched. The butterflies have repeated the cycle at least three times since July 2020, each time bringing the hope and joy of Christ's love to the small garden. "The butterflies are a gift from God," Father Cely said. "They represent transformation and resurrection."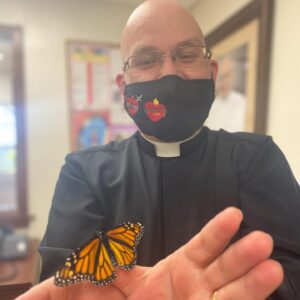 By Glenda Meekins of the Florida Catholic, January 27, 2021